Focus Home Interactive has added a new add-on to Farming Simulator 19 as players will be getting something new in the Straw Harvest. The devs have added the amazing Straw Harvest pack, which is available to download now for free on Modhub on PC/Mac, PlayStation 4, and Xbox One. Some of the fun additions to this mod include a ton of powerful new machinery that comes with unique mobile pellet technology from KRONE and Bressel und Lade. We'll see if any new additions come down the pipeline, but this feels like it may be one of the last big additions to Farming Simulator 19 we see before they might move onto a new title. For now, enjoy the new content and the trailer.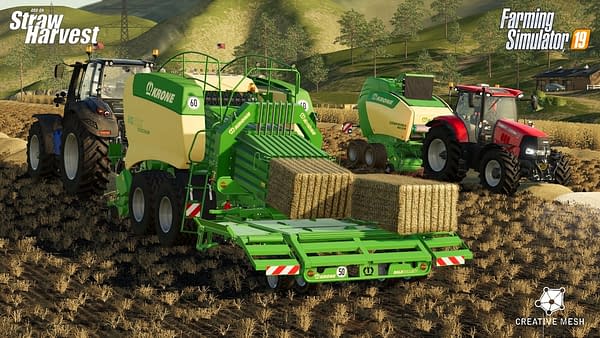 "The world's first mobile pellet harvester KRONE Premos 5000 can produce pellets directly on the field or can be operated stationary with the additional bale shredder. The produced pellets can be sold, used for animal bedding, fed to animals and can be processed in the included industry hall. KRONE BiGPack 1290 HDP II and KRONE Comprima V180XC are the balers of choice for a powerful straw harvest. With the attachable KRONE BaleCollect 1230 the BiGPack can unload stacks of up to three bales at a time. The Comprima also comes with a variable bale size option. Because the KRONE BiGPack, Comprima and Premos need bale yarn, netting and molasses in reality this feature can now be added optionally via shop configurations to your virtual farming experience. When this option is enabled you will have to buy the consumables pallets in the shop.
Handling bales becomes easy with the included bale grabs from Bressel und Lade and Lizard. These grabs come in various sizes for front loaders, telehandlers and wheel loaders. They grab and hold the bales while moving and release them only when you want them to. The included industry hall can be configured in three different ways. You can use it as an empty hall for parking your vehicles, store bales and pallets. Add a hall crane to make moving bulk material, bales and pallets more accessible. Add an automatic palletizer to further process the pellets produced by the KRONE Premos 5000. The pallets filled with pellets can then be sold at a higher profit at the selling station provided with the addon."
Enjoyed this article? Share it!