If you believe the latest Super Smash Bros. Ultimate rumor, there's seven new characters on the way that haven't been revealed yet. According to a few people on ResetEra today, a new leaked banner that has been fogged up shows seven new characters that will be added to the game. Someone in their forum took the time to do side-by-side comparisons of versions released during E3 and a current composite of every character announced so far, with the leaked one in the middle and have made some very stunning discoveries.
The seven characters they're pointing out in the middle, according to their own deducing, are (from left to right) Shadow the Hedgehog, Banjo-Kazooie, Isaac from Golden Sun, Ken Masters from Street Fighter, Mach Rider, the Chorus Kids, and Geno.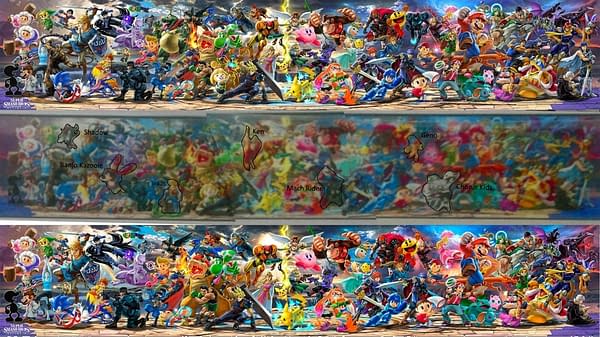 A couple of those didn't seem too far off as Ken was rumored for weeks and Xbox made it clear that if they wanted to add any of their properties, they'd be on board. But then you get ones like Mach Rider, which is an old NES title so old and weird to include that it doesn't make much sense. Then again, they did add Mr. Game and Watch into this series, so anything is possible. At this point, we're kinda surprised an Excitebike racer isn't in here. Considering how everything looks, it appears to be pretty credible. Here's hoping Nintendo will drop the bomb soon now that this is making the rounds and reveal the rest of the Super Smash Bros. Ultimate roster.
Enjoyed this article? Share it!