Games Workshop's Warcry Red Harvest – A Big Box Of Chaos: A Review
Games Workshop has been all but completely stifled by the pandemic, namely here in the United States. Sure, games like Warhammer 40,000 and Age of Sigmar have been thriving as best they can (AoS is still a tough sell for many retailers as far as we can tell, but 40k is absolutely doing just fine), but in the long run, many of Games Workshop's specialty games, such as Warcry, are having some difficulties starting back up. However, the ability to integrate this relatively-new game's miniatures with Age of Sigmar certainly helps its case, and this feels like a good argument for saying it's doing quite well despite everything that America (at least) is throwing at it. Nevertheless, we got ahold of a free review copy of Warcry: Red Harvest, a new big box set for the game, and here's what we think about it!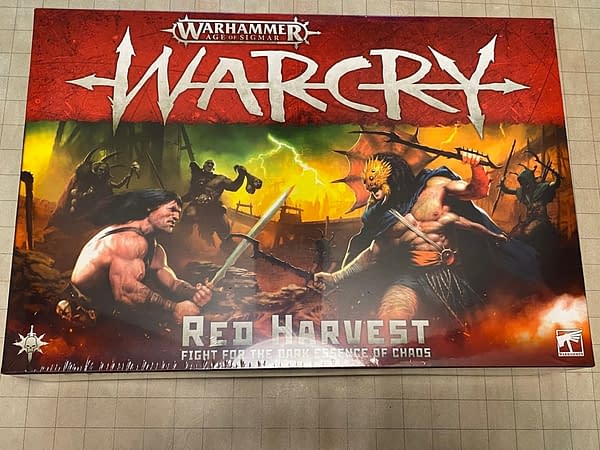 The premise for this game's specific scenario within the larger lens of Warcry as a whole is that a spot in the Eightpoints of Chaos are being contested, one that's rich in Varanite, a material that, according to Games Workshop's blurb on the box, "renders all manner of dark designs possible." The two factions fighting for control of the Varanite mines are the Darkoath Salvagers, a group of warriors, and the Tarantulos Brood, a sect of spiderlike mutants.
The box itself comes with ten Darkoath Salvager miniatures and 13 Tarantulos Brood mutants. But the thing that makes this box so immense certainly is not its figures. On the contrary, it's the expanse of terrain that it provides. This box boasts a ton of it, and with it, the justification to purchase this remarkable $210.00 USD item. Having said that, the box also contains a 104-page book for the Red Harvest campaign, battleplan cards, fighter cards, ability cards, tokens, dice, a range ruler, and a game board to place that wonderful glut of terrain. This box definitely seems like an ample means to teach or learn how to play Warcry.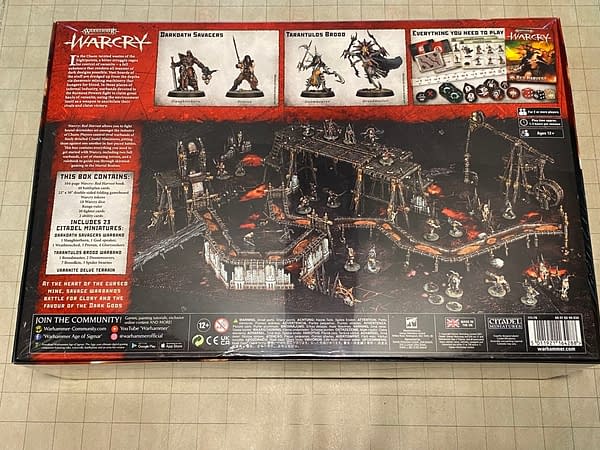 All in all, this is a comprehensive way to learn this new-ish game by Games Workshop. Given that the COVID-19 pandemic is not letting up too soon, however, the release does beg the question as to when it will be safe to play tabletop wargames in person with our friends and rivals once again. But what do you think? We can only provide our own perspectives here; is your part of the world doing better than America? And what do you think about Warcry: Red Harvest? Would you get this game under better circumstances? Are you going to get it at all? Let us know your thoughts in the comments below!