Go! Go! PogoGirl Coming To PC & Consoles This Week
Go! Go! PogoGirl will give you some amazing throwback vibes as the game harkens back to classic '90s platforming this week.
---
Ratalaika Games have announced that their upcoming retro platformer Go! Go! PogoGirl will be released this week on PC and all three major consoles. The game itself is a bit of an homage to the classic '90s platformers that people would play on the SNES and SEGA Genesis, as you'll take on the role of a girl making her way around on a pogo stick, trying to collect gems and defeat enemies along the way. The game will be released on February 10th, but before it comes out, you can check out the latest trailer showing off all the action below.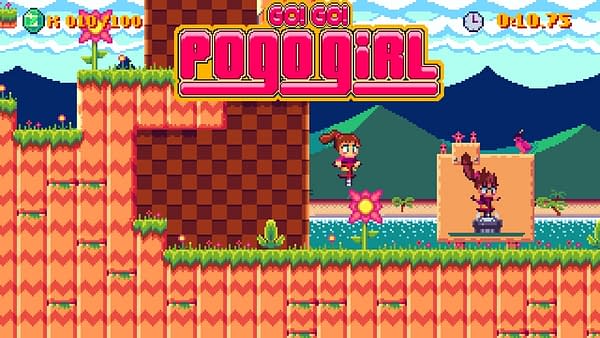 "Go! Go! PogoGirl is a dynamic, cute, and wholesome platformer about a girl and her pogo stick. Bounce your way through the world, collect gems, and then bounce some more! PogoGirl is a pogo champion living on Pogo Island. She's fun-loving, happy, and easy-going, but one fateful night, her favorite pogo stick is stolen from its case. Distressed, Pogo Girl grabs a spare pogo stick and gives chase, bouncing after the thief throughout the night and day – across the whole island in order to get her treasure back and strive to do the right thing by helping others. So the exciting adventure begins, and an impressive challenge unfolds."
"As is familiar for classic 2D platformers, the main goal is just to reach the end of each level. However, the game employs a task system for added challenges. In each level you can achieve three extra goals: Each of these goals will award players with a pogo medal, and if you collect all the medals in the game (including the bonus levels you unlock after beating it once), you will unlock a low gravity cheat, making PogoGirl bounce super high. Finally, players can also enable a timer in the game to speedrun it."