Guilty Gear -STRIVE- Cross-Platform Beta Launches February 3rd
Those looking to see Guilty Gear -STRIVE- across multiple platforms can try out the beta test period, which will start on February 3rd.
---
Arc System Works revealed this week that they will launch the Guilty Gear -STRIVE- cross-platform beta period in a few weeks. The test will officially launch on February 3rd, giving players a chance to see the game play across several systems as they test out the functionality and the netcode rollback so that it doesn't matter where in the world you are or how strong the connection is, everyone will be able to play. We got the full details of everything you'll be able to try out down below, as you can sign up for the test via the game's website.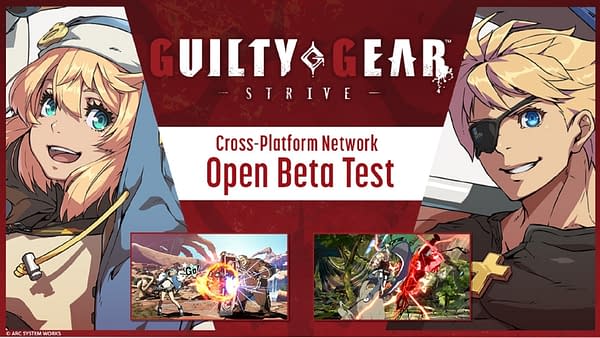 Players participating in the beta can select from all 22 available characters (including all currently released DLC characters) and try out a number of game modes, including online player matches, tutorial, survival mission modes, and more. Additionally, rollback netcode is now officially implemented in the Steam version of Guilty Gear Xrd REV 2. The new rollback netcode reduces delay in online matches, making for a better experience during matches with players from other regions. Rollback netcode is also available for Guilty Gear Xrd: Revelator.
Guilty Gear -STRIVE- Cross-Platform Beta
Tutorial Mode – Players can learn the basics of how to play
Mission Mode – Players will learn useful techniques for matches in a mission format
Survival Mode – Fight consecutive battles against the COM with a limited pool of health.
Training Mode – Recreate a variety of situations and practice to your heart's content
VS COM, VS 2P – Players can fight against the computer or a friend
Online Match (Rank Tower, Open Park, Player Match) – Play online against others from across the globe
Combo Maker – Make original combo or setplay, and search for other players' recipes to try
Digital Figure – Set up characters, furniture, effects, and more to create a unique scene
Gallery – Check out the characters and BGM