Gungrave G.O.R.E. Receives All-New Bunji Update
Gungrave G.O.R.E. has received the Bunji Update, giving players a number of new options and upgrades and new things for Bunji!
---
Prime Matter and Studio IGGYMOB have released a new update for Gungrave G.O.R.E. as they have given players the Bunji Update. The game basically makes it so that Binji can access every level in the game, for those of you who want to use the character everywhere. Not only is he available, but they also threw in a ton of updates for him to get the most out of the character, as well as other upgrades to the game. We got the dev notes for you below as the update is available now.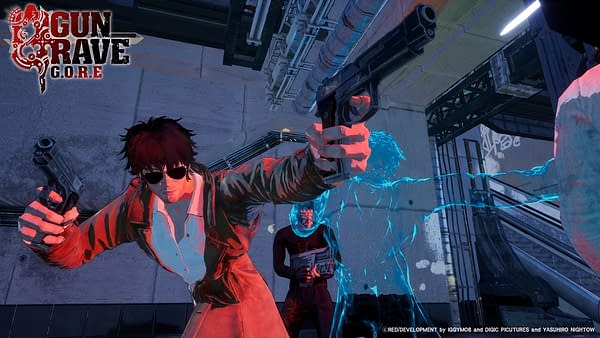 Major Contents Update
Bunji is now playable in every stage (You can unlock it by purchasing it with DNA at the lab)
Added Charge Shot for Bunji
Added Upgrades for Bunji
Added Demolition Shot for Bunji
Added ranged execution move for Bunji
Added shield destruction functionality on Shoot up move
Added Jump Shot for Bunji
Polished Bunji's basic movement about canceling other motions
Added Dodge Shot for Bunji
Bunji unlock is now available on Lab
Added achievement trophies for Bunji
Improvement On Presentation Of Demolition Shots
Camera changes for controllable skills like Hell hound, Hellfire, and Death Sentence
Added camera presentation for some Demolition shots like Raging Inferno
Gungrave G.O.R.E. System Improvement
Gimmicks that were against players removed
Polished Dodge with stronger dodging mechanic and polished animation
Polished Charging to be chained from various actions fluently
Shooting will be executed on pressing the button
Grave's Charge Shot has 4 levels now
Added Dodge Charge Shot and Jump Charge Shot
Players can now change difficulty at Continue screen.
Deleted auto target disabled state in smoke & deleted tutorial on the smoke
Dodge shot shoots 6 bullets instead of 4 bullets
Added UI effect for changing to full auto shooting mode
Polished Boss NPCs' attack speed and damage
Made lock-on functionality more fluent while using certain skills
Polished Idle motion
Improved Quick turn functionality
Improved parts when skills not being canceled while using them.
Improved range and hit effect of mines
Improved PC reaction when exploding objects are exploding
Improved Grave's moving speed
Improved shooting functions to work when executed while shooting in full auto mode.