"Hearthstone" Teases A "Battle For Azeroth" Event For BlizzCon
When it comes to Hearthstone and World of Warcraft, the two may share a universe, but they don't tend to cross storylines too often. Sure, there are references ehere and there to things happening in each world, but for the most part, what happens in the card game is a small reflection of what happens in WoW. However, it looks like what's been taking place in the world of Azeroth will finally have an effect on those playing the game at their friendly pub. Blizzard has put out a new teaser today that points to a big announcement coming at BlizzCon 2019.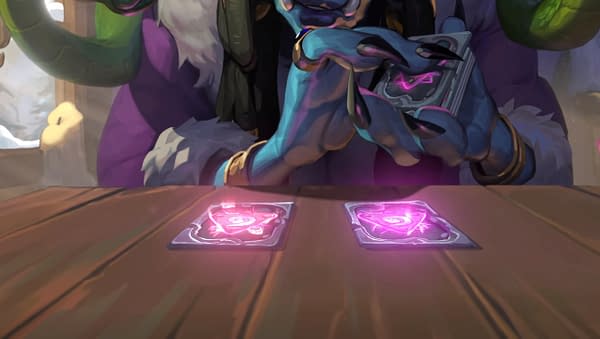 The video shows off Madame Lazul going over her cards and speaking of change on the horizon. Speaking of an uncertain fate as a conflict between two sides continues. Which certainly sounds like they're going to be getting into the Battle For Azeroth storyline. We're guessing all decks will end up getting special cards related to the ongoing event that's been happening for over a year and a half now, and that it will be revealed at BlizzCon 2019 after the November 1st date made it pretty obvious. But what exactly they have in mind for Hearthstone is uncertain beyond the idea that you might have a say in who wins the conflict. We'll all find out this week, but for now, the trailer.