Here's What Happened During The "Star Wars" Event In "Fortnite"
Yesterday, Disney and Epic Games took over the island in Fortnite to present a special Star Wars event, and here's what we got from it. Players were thrown into a period of time where they couldn't kill each other in the game, so unlike previous events where you could take people out midway through, that was removed so as not to ruin the experience. The Millenium Falcon made an appearance being chased by TIE Fighters, as they did battle in the sky before several Star Destroyers appeared in the skies, surrounding whatever planet this island rests on. We got a little bit of chatting from J.J. Abrams until we finally reached the clip.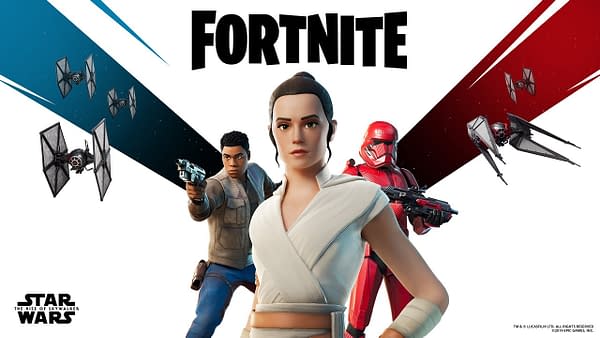 The clip itself was no more than 90 seconds of the main characters from Star Wars: The Rise of Skywalker landing on a base and making their way through by shotting and tricking some Stormtroopers. When the whole thing was over, everyone was given a 1st Place victory and the chance to play around with lightsabers. You can watch the entire thing below as recorded by a Fortnite player. Don't worry, this one has no commentary. A pretty cool event for those who attended. We'll see if Disney and Epic Games have anything else in store after the film premiers.