"Elvira's House Of Horrors" From Stern Is Spooktacular!
Elvira and pinball go hand in hand. In fact, the famous horror host has had three to date! Her first, Elvira and the Party Monsters was released by Midway Games in October of 1989. The second, Elvira Scared Stiff, dropped September of 1996 — and also from Midway. For her next machine, Stern Pinball has picked up the titular host and released Elvira's House of Horrors! As you may know, I'm a huge fan of Stern. They've released some of the best games over the past few decades. The creative minds at Stern really went above and beyond with their take on the Elvira mythos!
Trying to sell her mansion through "Alternate Realty", Elvira's house is haunted by the movie characters from her past. These ghouls, ghosts, monsters, and strange assortment of vintage characters with horrific acting skills seek revenge on Elvira while she and the player confront them, sending them back to the "film" from which they came! Elvira's House of Horrors immerses players in a fun, campy, B-movie universe filled with all of the humor expected from the Mistress of the Dark including custom speech and, in a pinball first, exclusive filming of Elvira for custom video scenes featured throughout the game!
There's a lot of nice touches in this pinball — including how Torgo from Manos: The Hands of Fate was supposed to actually look!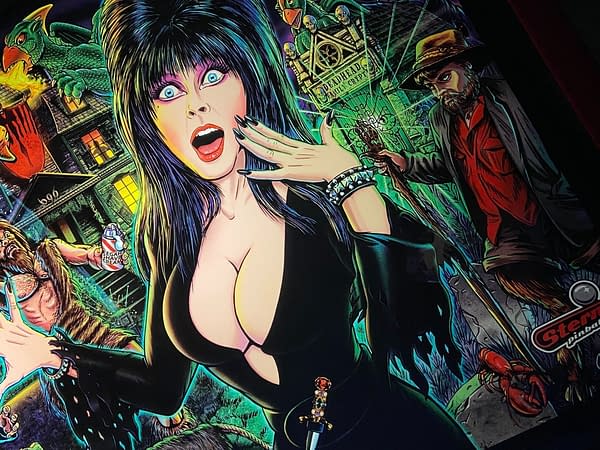 There's a few other B-movie creatures featured. Artist Greg Freres and Designer Dennis Nordman crafted a well thought out love letter to the Mistress of the Dark, and all the B-Movie camp one can handle. Fans can get the machine in either a Premium Edition, a Limited Edition, or a Signed Limited Edition (which comes with an Elvira autograph, a certificate of authenticity, and a swatch from her famous red velvet sofa). All three models feature six balls, three pop bumpers, Beast Booster Spinner, a "Junk in the Trunk" ball lock, interactive gargoyle statues, a "Hand of Fate" wheel, a Deadhead Family Crypt, the House of Horrors, Elvira call outs, and a unique feature at the end that shows the B-Movie footage players unlocked during the game. What do the LE models have, you may be asking? Different cabinet art, and a few more cosmetic differences. In all honesty, I have a premium edition. I don't feel like I'm missing out on the LE.
The game is harder than I expected. I rather enjoy difficult games — I like the challenge of figuring everything out. The call outs are cheesy and fun, the music is appropriate for Elvira, and the artwork is beautiful. I did get to see some B-Movie footage featuring Jungle Girls attacking men. In total, there are 26 B-movies in this game that you can unlock (including Manos: The Hands of Fate). The game is wildly interactive, and some parts reminded me of the Elvira machines of the past. I genuinely love the video DMD, which really tied the game together. While the LE machines might be significantly harder to find (especially the signed one, which only 50 were made), you may still be able to find a Premium from an authorized Stern dealer.