Hideo Kojima Confirmed For Gamescom 2019 Appearance
This week it was revealed that Hideo Kojima will be making an appearance at Gamescom 2019 which will be streamed live for the public. The word came out from the event this week, promoting his appearance for Opening Night Live on August 19th at 11am PDT/2PM EST. No word yet about the content of the show or the format, so who knows how much he'll actually say. But the fact that he'll be on stage to hopefully talk publically about Death Stranding is always fun news.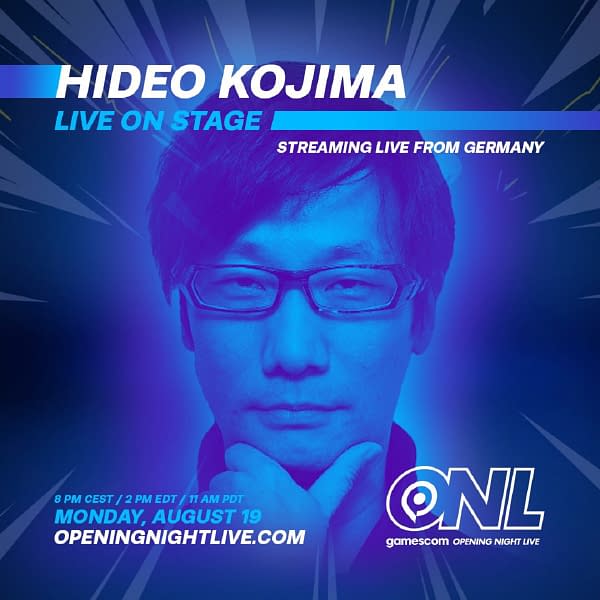 Some of the publishers scheduled to make announcements and debut world premiere content during gamescom: Opening Night Live include: 2K, Activision, Bandai Namco Entertainment, Bungie, Capcom, Electronic Arts, Epic Games, GoogleStadia, Koch Media/Deep Silver, Private Division, Sega, Square Enix, Sony Interactive
Entertainment, THQ Nordic GmbH, Ubisoft and Xbox Game Studios. A number of independent game studios will also make announcements. Additional details on specific games and game content will be revealed in the coming days leading into Monday, August 19.

"I'm so excited to bring the gaming industry together for this unique night that will celebrate many of the biggest games at gamescom that are coming out later this year and in 2020 and beyond," said Geoff Keighley, producer/host, gamescom: Opening Night Live. "Fans watching the stream around the world should expect an
overview of what to expect during gamescom week, updates and reveals on some of the most anticipated games coming in the months ahead, as well as announcements of new projects too."

Several stars from the games industry will appear on stage. Today it is also confirmed that visionary game director Hideo Kojima will make a special live appearance during the show to present a new look at Death Stranding, set for release on November 8, 2019 worldwide for PlayStation 4 from Sony Interactive Entertainment.