Horizon Zero Dawn Gets an Anniversary Video and More
After recently passing 7.6 million sales, Guerrilla Games is celebrating the one-year anniversary of Horizon Zero Dawn and their fanbase with a new video and updated player stats. We have the video for you below, along with a new stats sheet that the developers created to show off some interesting numbers during the game's first year. Keep in mind that this is basically just a tally of miscellaneous numbers that have been pulled from their online connection to everyone's copy of the game, so this is a global tally across multiple countries and not just specific to any region.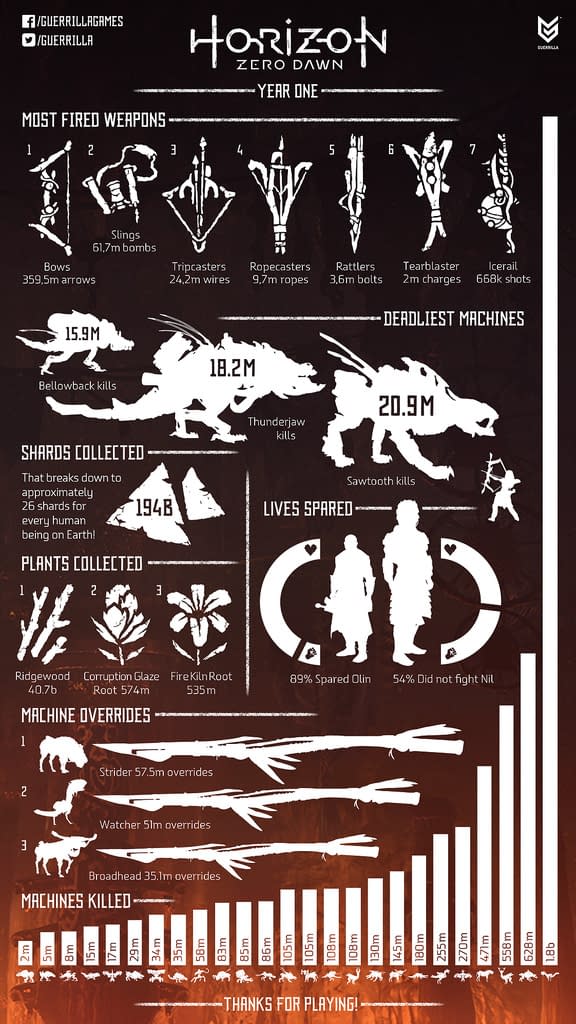 As for the video, it looks mighty impressive as they get a lot of viewpoints about the game crammed into a five-minute video, including the lead voice actress Ashley Burch, as well as getting some big name people to talk about it like Kojima. Basically, if you're a fan of the game, this is your all-in-one appreciation video thanking you for playing it while also going out and getting the word from fans and media and industry people to talk about how awesome it is. So kick back for five minutes and enjoy everyone gushing over one of the best titles of 2017.