Inferno Officially Returns to SoulCalibur VI as Latest Character
Of all the character int he entire SoulCalibur series we didn't expect to see return, Inferno was near the top of that list. But apparently, he is coming back in SoulCalibur VI. If you're new to the series and don't really remember the character, he's the primary villain for the first three games after Soul Edge. In fact, his name was Soul Edge in Soul Blade because he is the embodiment of the evil will and souls collected within the sword itself. He showed up in various places after that when the series put new antagonists in that role, which is fine because unlike other characters in the series, Inferno barely has a story. Seriously, look it up, even fan-made wiki articles that go in-depth over the series spend more time talking about his appearance than his purpose.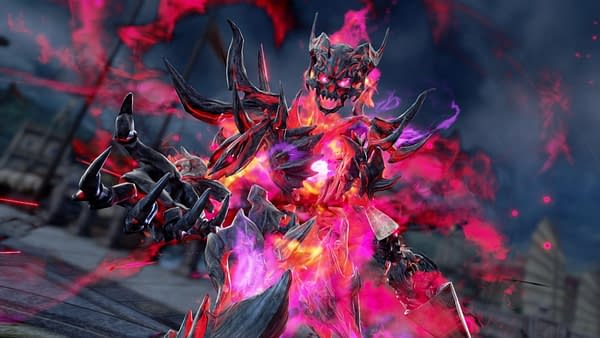 Something that Bandai Namco didn't really address this time around with the character is whether or not he will be a DLC character or be part of the main game. Unless the company pushes someone else already announced out of the current roster, we're assuming it's going to end up being an unlockable, not part of the main roster but not a DLC addition for later. Especially since he hasn't been the main baddie for over a decade, there's already a villain for this edition with Azwel, and we're pretty sure this is more of a fan-service addition than a storyline addition. In any case, SoulCalibur VI will be out in two weeks time on October 19th. Enjoy the trailer!