Posted in: Games, Indie Games, Video Games | Tagged: Disturbed, iron maiden, Iron Maiden: Legacy Of The Beast, Navigator Games
---
Iron Maiden: Legacy Of The Beast Launches New Disturbed Collaboration
Navigator Games announced this week that Iron Maiden: Legacy Of Beast has launched a new collaboration with the band Disturbed. The pseudo mascot for the band, simply known as "The Guy" will appear alongside a futuristic version of Eddie as the two will fight the powers of evil on the edge of space. Because, you know… WHY NOT?! We have more info about the event below and the teaser trailer as it is officially live in the gamer for you to earn The Guy as a playable character beyond the event's run.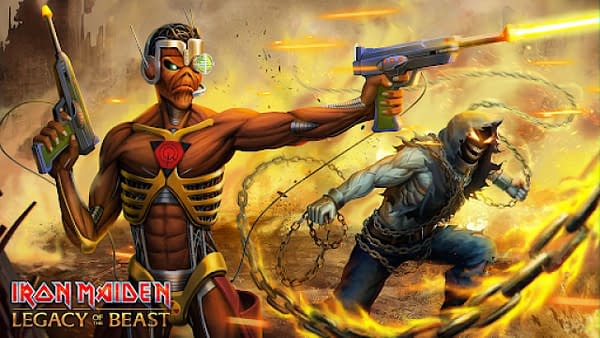 Following successful collaborations last year with Amon Amarth, Lacuna Coil, and Ghost, Iron Maiden: Legacy of the Beast has teamed up with Disturbed to bring the iconic cloaked mascot The Guy to life in the mobile game.

Legacy of the Beast has created a new limited-time, in-game event called, Disturbing Sciences featuring a limited-time character, The Guy. The game's Disturbing Sciences event is an ode to both bands' lore taking its broad themes from the cover of Iron Maiden's 1986 album Somewhere in Time and Disturbed: Dark Messiah, a five-part comic book series where The Guy makes his comic book debut. Over the years, The Guy has been depicted as an antihero, saving people from corporate corruption, often through violent means. In this new storyline, Cyborg Eddie and The Guy have been summoned through time and space to the Polvo Valley, a small town transformed into a hyper-sanitized, machine-driven industrial city, where Eddie and The Guy are dead-set on punishing the city's corporate overlord – Brian Kek and confronting the CEO at Kek Tower before discovering the depth of his hubris.
"My self and the guys from Disturbed are humbled to be included in the Legacy of the Beast game. We feel that The Guy is a worthy addition to the saga and we're very happy to be a part of it … when we first saw the first concept pieces of how he would be integrated into the game it was thrilling for all of us, it's still kind of surreal! I love that our dark messiah storyline from the Disturbed comic book series, [from the graphic novel] is being integrated into the video game series, I think they go hand and hand with one another. I love more people having the opportunity to play as The Guy … and battle the forces out there that deserve to have their asses handed to them," said Disturbed's frontman, David Draiman.
---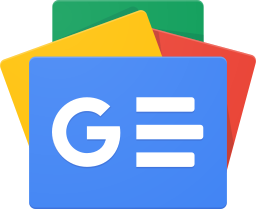 Stay up-to-date and support the site by following Bleeding Cool on Google News today!