Frontier Developments has announced that Jeff Goldblum will be guiding players through their experience in the upcoming Jurassic World Evolution.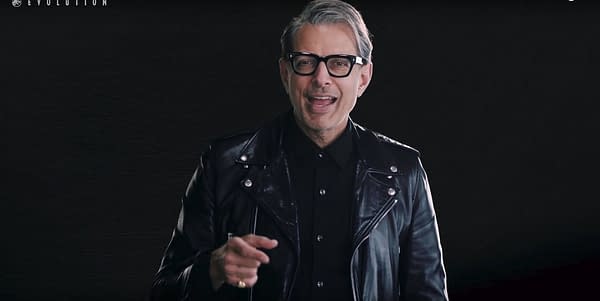 Jeff Goldblum is having a bit of a resurgence at the moment. He never truly went away, but he has become a much bigger part of mainstream pop culture in recent years, cropping up everywhere from commercials to Independence Day: Resurgence to Thor: Ragnarok. And really, who is going to deny a world with more Goldblum is a better world? He's set to grace another blockbuster this summer too with the upcoming Jurassic World: Fallen Kingdom, returning as the iconic Dr. Ian Malcolm.
However, it's not the only medium he will be is reprising the character. Frontier Developments has just announced that he is set to be in Jurassic World Evolution. The park building game is coming from the team behind the fantastic Planet Coaster, and they say Goldblum is set to "guide players through Jurassic World." You can see the announcement made by Goldblum himself here. It's pretty Goldblum-y:
This is a genuinely exciting little bit of news. It springs to mind the likes of Leonard Nimoy and Sean Bean in the Civilization series, and I really hope Dr. Ian Malcolm will be in a similar omnipotent role in the game. It's hard to know exactly how much he will be in the game, but I for one hope it's a fair amount. He'd be a great passenger to have as you go about making your own Jurassic Park. Jurassic World Evolution is set for release sometime this summer. I can't wait.
Enjoyed this article? Share it!