Among Us VR Announces New Map IS On The Way
Among Us VR is getting an all-new map for you to play on, as the devs are looking for a proper name before they release it.
---
Schell Games, Robot Teddy, and InnerSloth have given Among Us VR a brand new map, as they are looking to name it before its release. The map shares a theme with the standard version of the game as they take you back to Polus. However, they're taking you underground into the mines of the arctic complex as you get to see what was sitting underneath the facility in this entirely new design made specifically for VR. Before they release the map, they're looking to name the thing and are taking a vote on a Google Docs sheet for everyone to answer. They also talked more about the next patch for the game, which we have the details of that info below.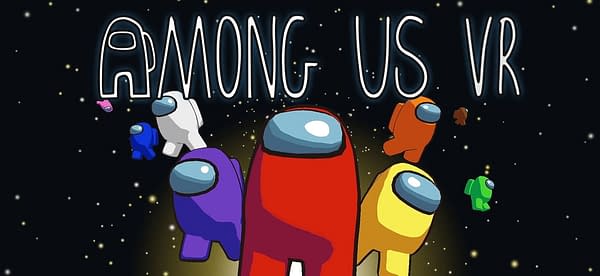 "Patch 4 is on the horizon, and the Developer Crew are actively looking for beans to join the ongoing open beta. We're currently testing some highly-requested features, including lobby customization options. From preliminary testing and some quick math, the Among Us VR team discovered more than 9 billion customization configurations coming to the game with this upcoming feature. These settings will allow a lobby host to adjust the pace, balance, and general rules of how a match plays out — including nearly all of the options from the original Among Us and some VR-exclusive options. Here are two sample configurations shared with players on the Among Us VR Discord Server that can put a new spin on spaceship shenanigans."
"Where's The Proof?"
Without skewing the scales too much, playing with a bit more vagueness and scarcity of information can be fun. Put your social deduction skills to the ultimate test by wiping away any shred of evidence.
Hands Visible: Always
Chat Enabled: During Meetings
# Emergency Meetings: 1
Visual Tasks: Off
Taskbar Updates: Never
Anonymous Voting: On
Ejections Show Roles: Off
"Conceal and Prowl"
Numerous Crewmates. One Impostor seeking them out. And absolutely nothing stopping a brutal takeover except clever hiding skills and a speedy task list completion.
# Impostors: 1
Kill Cooldown: 10 sec
Hands Visible: Always
Crew Vision: Min
Impostor Vision: Long
# Emergency Meetings: 0
# Long Tasks: 0
Report Bodies: Off
Door Sabotage: Off
Sabotage Cooldown: 40s