A little bit of good news for people who have been patiently waiting for Konami to release the Duel Power addition for Yu-Gi-Oh! TCG as you get it a couple of days early. Usually whenever there's a bump we have to report that it's been pushed back, but in this case, the company is moving the set up from April 5th to April 3rd. There really wasn't any reason given as to why the product is now coming out two days earlier, but if you're a player of the game, that's good news for you. Here are a few extra details about the next addition for you to gloss over as it will be released in about two weeks.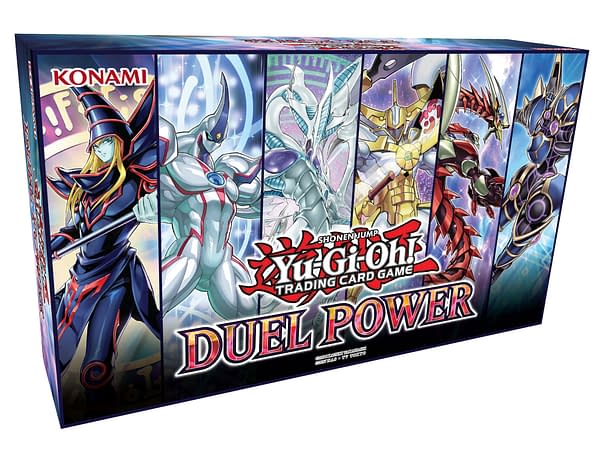 Each box of Duel Power contains 6 new Duel Power booster packs with 5 Ultra Rare cards per pack. Duel Power's booster set includes 40 new cards and 60 hot reprints, including the 4 popular "discard" effect monsters (from Ghost Ogre & Snow Rabbit to Ghost Belle & Haunted Mansion); popular Spells and Traps like Infinite Impermanence, Card of Demise, and Evenly Matched; Link Monsters from Borreload Dragon to Trickstar Holly Angel; and out-of-print cards like Naturia Beast, High Priestess of Prophecy, and 2015's "Nekroz" Ritual Monsters.

Duel Power's new cards span the whole history of Yu-Gi-Oh! by revisiting the main monsters from each anime series' history. Start with powered-up versions of your Dark Magician like Magician of Chaos (a new Dark Magician Ritual Monster). Use Cyber Dragon Nachster to power up your most famous Machines from the GX era. Revisit high-speed Duel Wheeling from 5D's with the brand-new Synchro Monster Signal Warrior. Flood your field with Xyz Materials using the new Zexal-themed Utopic Onomatopeia and Xyz Summon Number 39: Utopia Double. Pump up your ARC-V Pendulum Deck with Odd-Eyes Advance Dragon to burn your opponent's Life Points and Summon back more monsters. And finally, for the latest anime series, Yu-Gi-Oh! VRAINS Decks get new cards like Gouki Cage Match, Trickstar Foxglove Witch, and Booster Dragon.
Enjoyed this article? Share it!