This morning, Riot Games and iam8bit announced they would be releasing a special 10th-anniversary vinyl soundtrack for League Of Legends. The collector's 2xLP vinyl set is available for purchase on their website for $40, and they are shipping immediately. Here's a few details about what is going to end up being a must-own item for hardcore fans.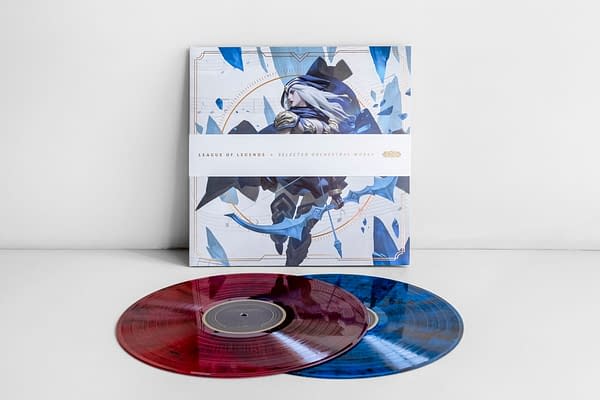 To celebrate the 10th anniversary of League Of Legends, Riot has summoned their strongest musical intuition to curate the most beloved themes of your favorite champions, together, on stunning smoke collector's vinyl. The orchestral epics that accompany the battlegrounds are as vast and stunning as the landscape of Runeterra. If you're truly a member of the League, assemble your weapons: this is your chance to prove it!

FIRST TIME EVER ON VINYL – 10 Years of iconic League of Legends orchestral themes
Order Blue and Chaos Red Smoke 2xLP set
Exclusive Illustrations for Vinyl w/ Epic Gatefold
Music by Riot Music Team
Album Art by Riot Games

Full Track List

Champion Themes
1. Nami
2. Poppy
3. Kindred
4. Jhin
5. Aurelion Sol
6. Taliyah
7. Camille
8. Xayah & Rakan 9. Ornn
10. Irelia
11. Pyke
12. Neeko
13. Kayle & Morgana

Factions & Fantasy
1. Freljord
2. Captain Gankplank
3. Captain Fortune
4. Snowdown 2015
5. Orb of Winter
6. Dragon Trainer Tristana
7. Dark Star Thresh
8. Elementalist Lux

Competitive Themes
1. Summoner's Call
2. Tales of the Rift
3. Worlds 2016 Theme
4. MSI 2016 Login
5. The Climb
Enjoyed this article? Share it!