We got a chance to visit the Another Indie booth at PAX East this year, and the first game they showed off to us was Jack Axe. This is a multiplayer platformer where your axe serves as your best friend as you will use it to explore the world and make your way through different challenges. The axe itself acts like an all-in-one tool to rocket yourself across levels, destroy obstacles in your way, creatively defeat foes, and essentially serves as a McGuffin for all your troubles. The game also acts a bit like a die-and-repeat game as you can go as a four-player team and lose people along the way, but they will regenerate if you make it to a new area. However, if you all die, you have to start that section over again.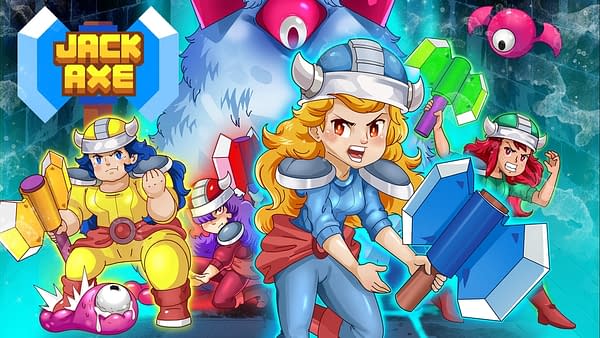 I got a kick out of the game, but there is a deep learning curve. We were playing with one of the developers who knew all the tricks to the trade to get around, and while myself and two other newbies were learning the ropes, he was pulling off moves I knew would take a couple hours of practice. So there is a degree of challenge as you make your way through the game. The game is set for a to be released on September 2nd on PC and Nintendo Switch.
Enjoyed this article? Share it!