Marvel Future Fight Gets A Guardians Of The Galaxy Update
Netmarble announced a brand new update to Marvel Future Fight this week as the Guardians Of The Galaxy invade the game. The update adds in new characters, quests, and uniforms for Agents to collect. First off, the game is getting five new characters affiliated with the Guardians of the Galaxy team. Those characters are Beta Ray Bill, Phyla-Vell, Darkhawk, Nova (Richard Rider), and Gladiator. Next, the game is getting new uniforms, including a Grounded uniform for Star-Lord and a Cosmic Ghost Rider uniform for Punisher. The update also introduces a new Guardians of the Galaxy Epic Quest, as the new story-driven campaign focuses on Star-Lord and the new Guardians in their fight to save the universe. On top of that, Agents can train Star-Lord and Beta Ray Bill as they play through quests and earn new heroes.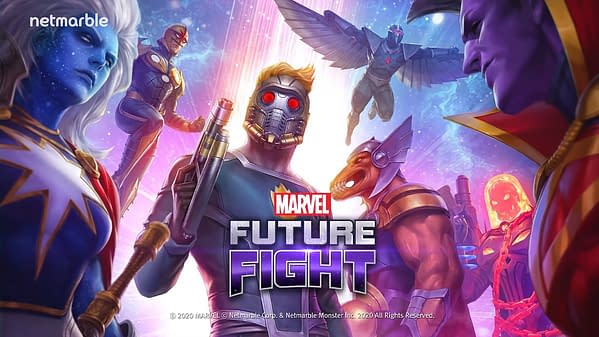 You can read the full list of updates below as you can download the game from App Store and Google Play. The devs have been pretty good about adding in updates, but they've also been slowing down as we're guessing they've been preparing to release Marvel Future Revolution. No word yet on when we'll see that game as they haven't announced anything about it since PAX East 2020. But in the meantime, it looks like we're getting everything they got left for Marvel Future Fight.
Star-Lord is now upgradable to Tier-3 and a new ultimate skill has been added.
The 'Realize Potential' feature is unlocked for Beta Ray Bill, Phyla-Vell, Darkhawk, Nova (Richard Rider), and Gladiator.
The 'Awaken Potential feature' and new awakening skills for Beta Ray Bill are now unlocked.
Improved hero growth points and enhanced convenience of the content status board, world boss, and main icons.