Spin Master Games and CMON announced today that they will be holding a Kickstarter campaign for their upcoming board game Marvel United. The campaign is live today and gives backers the chance to get their hands on the ultimate edition of the game. Which will include exclusives that won't be found at retail. Those perks start at the $60 donation marker and up. On top of that, every $60+ backer will receive three additional Kickstarter-exclusive miniatures (Nick Fury, Hawkeye, and Corvus Glaive). Plus, a Kickstarter-exclusive expansion pack featuring The Infinity Gauntlet is available as an add-on for $30. Basically, they're giving you a chance to buy custom versions of the game depending on how much you contribute. Here's added info on the game from today's announcement.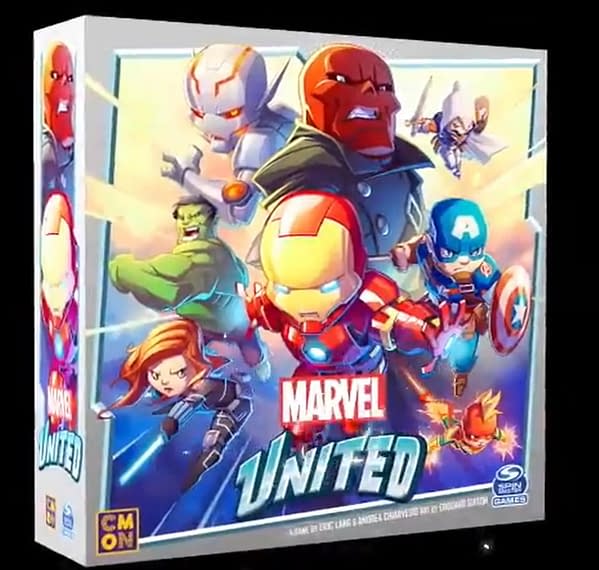 The game taps into the current all-play trend in board games that unites players, encourages cooperative play and communication, and leaves nobody bored!

About the game: It's time to become the hero you were always meant to be!

Marvel United is a fast-paced, cooperative game for two to four players
Set up your Mission Board and select one of three included villains (Red Skull, Taskmaster and Ultron) to battle!
Each player chooses a hero from the five included options (Captain America, Hulk, Iron Man, Captain Marvel and Black Widow) and plays their hero's unique powers from the Hero Card against the villain
Pay close attention to your fellow heroes' moves and coordinate your efforts — your powers and abilities can be strategically combined to thwart the villain's Masterplan!
If you solve your Mission and defeat the villain, everyone wins! If the villain completes their Masterplan, the heroes all lose
Add in expansion sets for even more variety and unique gameplay experiences
Marvel United provides 40-60 minutes of game play and is for ages 14+

"We are excited to unveil the first-ever Marvel game on Kickstarter, delivering a truly unique and original game to fans," says Elizabeth LoVecchio, VP of Spin Master Games. "Spin Master takes pride in great partnerships and working with CMON exemplifies this value. Launching Marvel United on Kickstarter gives us the opportunity to bring the ultimate version of this game to superfans with exclusive expansions and characters that can be mix and matched in the game."
https://www.youtube.com/watch?v=s_Jpf8Ievvs
Enjoyed this article? Share it!