At E3 this year we got a chance to visit with the crew of Team17 and got a few cool games to try out, one of them being Overcooked 2.
If you've never tried Overcooked before, you're basically playing 2-4 player mayhem in the kitchen as you're trying to cook and serve meals that come in from weird locations. Overcooked 2 is the same premise, but the mayhem has been cranked up to insane with a dash of grit.
A couple of the levels we got to try out really tested out patience and speed. One of them had us cooking in a hot air balloon that swayed in the wind, only to have to come crashing down into another kitchen where we were not serving a second set of items.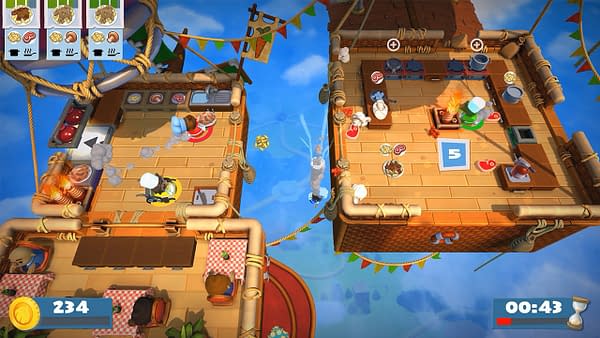 If you're a fan of the original, you'll get a real kick out of the sequel, as you now have a selection of new chefs that are cute and cuddly. These included a granny with some pep in her step and a platypus who surprisingly know how to make a good sushi roll. The game is set for a release on August 7th on Nintendo Switch, PC, Xbox One, and PS4. Enjoy the trailer for it below!
Enjoyed this article? Share it!