"Mortal Kombat 11" Finally Reveals All Kombat Pack Characters
Finally, after months of waiting for the worst-kept secret to be revealed, NetherRealm Studios has released the Kombat Pack trailer for Mortal Kombat 11. We already have Shang Tsung and Nightwolf added to the mix, but now we know the complete roadmap of the raming four characters. They are Sindel, The Terminator, Spawn, and The Joker. A couple of surprises did come out of this trailer, however. First, all of the characters are being spread out across several months into March of 2020. Next, we're getting The Terminator before Sindel, and it's the version from the upcoming film Terminator: Dark Fate. Arnold will be popping up on October 8th while Sindel will join on November 26th.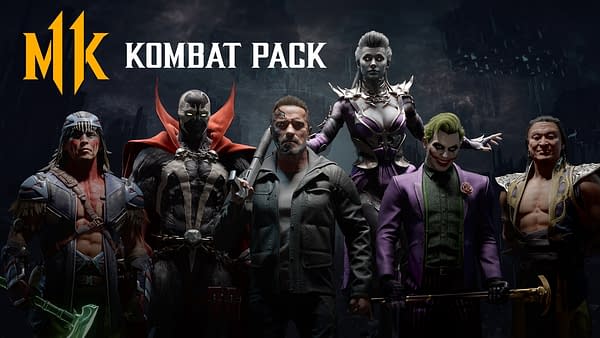 The Joker… well, he doesn't really look like The Joker from the Injustice series. In fact, he doesn't really look like a version of the character we've seen in anything beyond the pages of DC Comics. The hairstyle, the suit, even the use of a cane, feels more like a throwback to the way he used to appear in the '80s. Spawn is the one character who pretty much isn't a surprise as he looks pretty much like he's supposed to from his appearances in Image Comics. Though we're sure there will be several skin variants. The one surprise left off the list that we thought we'd see in the mix was Ash from Evil Dead. Especially after all the hints and the chainsaw teaser back in April. But if he is added to the game, it appears he'll be his own separate thing. Provided they don't do a second Kombat Pack. For now, enjoy the Mortal Kombat 11 trailer for it all as we wait for the next character to come in about seven weeks.