Monster Energy Supercross 6 Gets New Career Trailer
Milestone and Feld Motor Sports have a new Monster Energy Supercross – The Official Videogame 6 trailer showing off career options.
---
Milestone and Feld Motor Sports have released a brand new career trailer for Monster Energy Supercross – The Official Videogame 6. This one gives you a quick glimpse into the options you have for your career in the game as a rider, and the journey you'll be taking to become the king of the hill. It's less than a minute and doesn't really go in-depth, but you get a better look at what's to come. Enjoy the trailer down at the bottom as the game is due out on March 9th, 2023.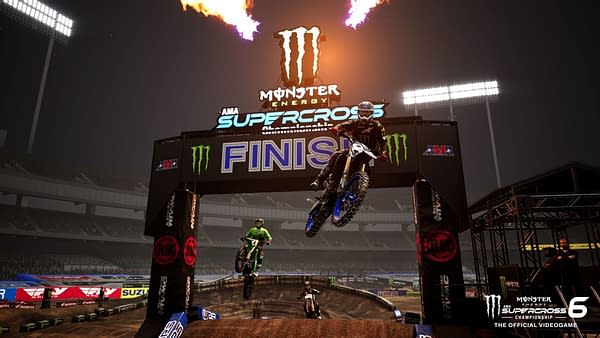 "Sweat, tears, and dirt await players in the new chapter of the historic franchise featuring all the official riders and tracks of the exhilarating sport of Supercross. This year, the renewed Career Mode will take the off-road two-wheel gaming experience to the next level, and players will truly feel the adrenaline of Supercross and live their own journey at full speed. The path to the top will be more engaging than ever, thanks to revised AI and physics ensuring the most realistic competition possible, pushing players to give their best to realize their dream of becoming a Supercross champion. One more factor that will increase Monster Energy Supercross – The Official Videogame 6's realism is the refined Riders Shape System, now even more connected to the gameplay with mental and physical health having a bigger impact on the performance of the rider."
"Falling down is allowed. Getting back up is mandatory. This is rule No. 1 of the Supercross Academy, where riders will learn how to get their hands dirty under the guidance of their personal coach, the "King of Supercross" Jeremy McGrath. With personalized challenges and tutorials, the seven-time Supercross Champion will help players make every last tenth of a second count – training after training, both newcomers and veterans will be able to prove their skills, climbing the ladder from one of the 250SX Championships to finally earn a seat in the 450SX Championship and battle their idols.To achieve their best performance, players will have to master the handling and feeling of their bike: beginners will enjoy new tools and settings to customize riding aids according to their level (e.g. auto steering, auto brakes, auto throttle, etc.), while expert players will be able to fine-tune bike set-ups and even decide their specific riding style thanks to a dedicated skill tree. Online, the competition promises to be intense like never before: full console cross-play will now allow all console players to challenge each other and a new Ranking System will push them to become the best rider they can be."