If you thought Blazing Griffin was just going to create Murderous Pursuits as a single game with no bonus content, you were wrong. This week, the developers showed off plans for monthly updates they're calling "Mr. X's Menagerie of Murder". The plan involves a combination of giving away free updates along with some paid DLC content over the next few months, ranging from new modes and maps to fresh new characters you can play in the game.
Below is a sample of what they have planned for the game going into August, which at the moment looks absolutely loaded once you hit June. It's also nice they added in language packs this month for Japanese, Korean, and Chinese players to help grow their audience in those countries.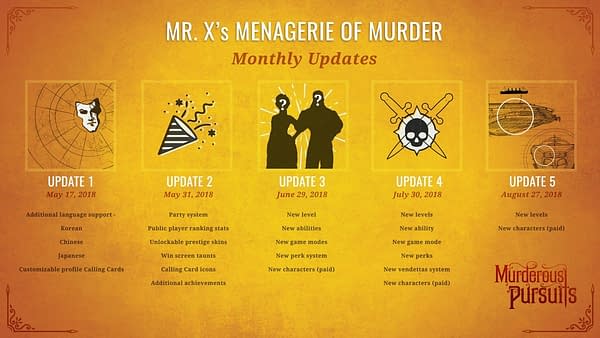 Update #1 – May 17, 2018

Support for additional languages: Korean, Chinese, Japanese

Customizable profile Calling Cards

Update #2 – May 31, 2018

Party system

Public player ranking stats

Unlockable prestige skins

Win screen taunts

Calling Card icons

Additional achievements

Update #3 – June 29, 2018

New level

New abilities

New game modes

New perk system + multiple new perks

2 new characters (paid)

Update #4 – July 30, 2018

Several new levels

New ability

New game mode

New perks

New vendettas system

2 new characters (paid)

Update #5 – August 27, 2018

New levels

4 new characters (paid)
Enjoyed this article? Share it!