NBA Now 23 Receives New Major Update Heading Into Season's End
Com2uS drops a new major update for NBA Now 23, adding in the new All-Star Seasons as well as new options for you to explore.
---
Com2uS has released a new update this week for their mobile game NBA Now 23, giving players access to some new content and additions leading to the end of the season. Starting today, tje mobile basketball game will give you more All-Star functionality, allowing you to snag players who played as all-stars between 2016-2018, opening up new options for player and team combinations. You'll also encounter new line-up effects to boost a team's players and get the most out of them in an instant. The game has also added a number of other improvements and bug fixes, all of which have been designed to increase players' dominance on the court and give you a better experience in the game. We got the developer notes about the update below as you can update the game right now for iOS and Android.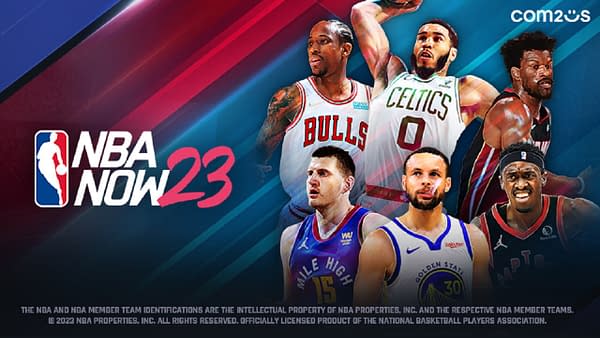 Today's update for NBA Now 23 empowers players by applying stat bonuses when All-Star players from the 2016-2018 seasons are paired with other All-Star players from the same season. Plus, from now until April 30, claim up to three free Players Packs simply for signing in. In addition to the new All-Star team effects and login bonuses, today's update includes the following."
Improved UI/UX – A new interface clearly displays the positioning and stats of the team, so players can more easily determine the best line-up. The in-game player guide has also been improved so that players can easily locate special-type cards and actual stats for each athlete.
Smoother, Faster Upgrades – Combine players to rank them up quicker than ever and score additional special-type players and buffs throughout the regular season. Plus, complete up to 13 daily in-game challenges (an increase from 4 per day) for coveted rewards.
In-game Treasure Hunt – From now until April 28, complete special missions to earn Prime Player Packs, Level Extension Cards, Premium Player Packs, and more.