Six brand-spanking new releases have hit game stores for Privateer Press' Warmachine and Hordes, featuring some of the most off-kilter monsters I've seen in a while!
Let's start off with the Grymkin releases, which are about to bring some high-octane nightmare fuel to your game tables!
Baron Tonguelick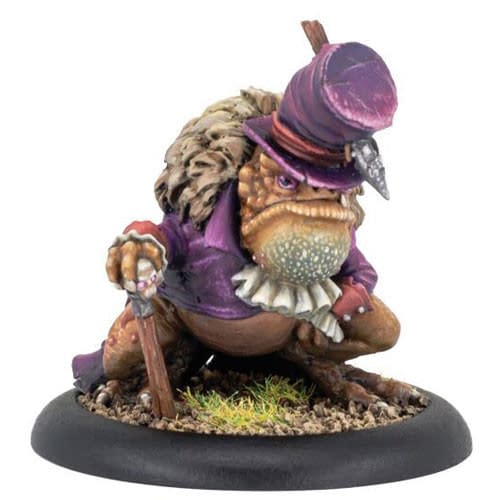 Uhm, yes, please. Keep throwing demonic dandy frogs at me, Privateer Press. I will never stop loving demonic dandy frogs. Never. He calls himself the Lord of Warts, and can use his tongue as a weapon. SOLD for the price of $17.99.
Malady Man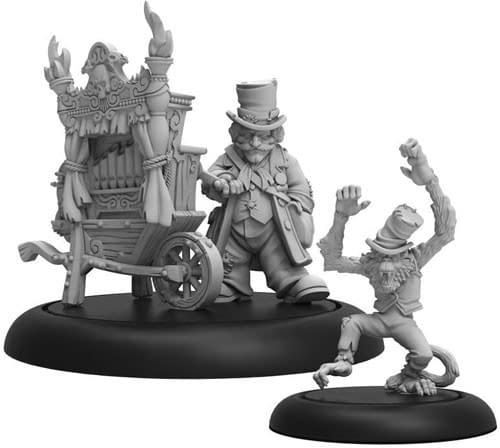 Oh, and I thought the demonic dandy frog was an insta-buy. Here we have a grumpy organ grinder and his demented, capering monkey. The Malady Man plays discordant music on his organ grinder, which causes people to wander into the waiting jaws of his monkey.  I simply cannot love this sculpt enough. Get plenty of musical monkey mayhem for $22.99.
Neigh Slayer Warhorse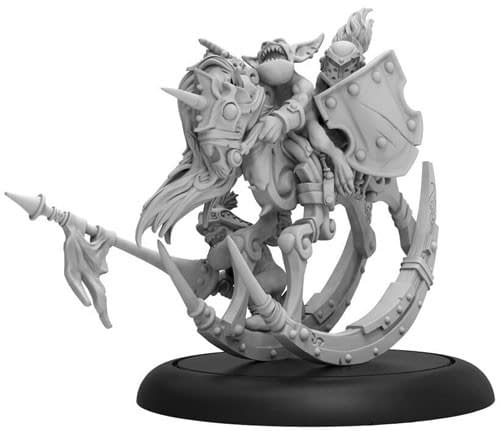 What the actual WHAAAAT? No, really… what? I love this so much. It's a gremlin on a rocking-horse outfitted for warfare. Seriously one of the coolest minis I've seen in a while!
Now that I'm done gushing over the Grymkin releases, let's take a look at the Warmachines side of the fence, which has a couple of new releases for the Mercenaries, and a new unit for Retribution players. This rocking-horse nightmare retails for $26.99.
Steelhead Gunner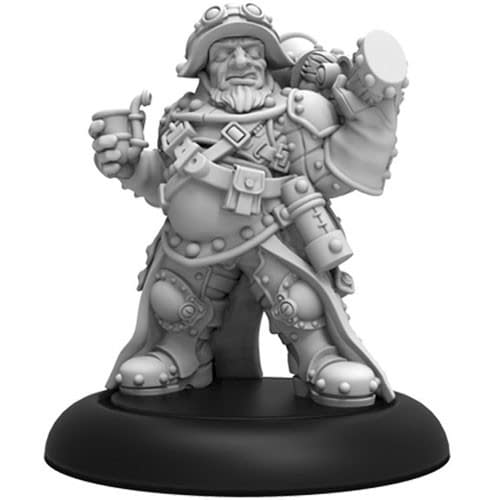 This guy is a Rhulic mercenary, and should be quite the quite the support piece for the upcoming Steelhead artillery batteries. Plus, he has a pipe, and looks pretty cool. The Steelhead Gunner retails for $13.99.
Steelhead Arcanist
Eyepatch Magicdude! I really get a kick out of the casters in Warmachine. That steampunk/fantasy hybrid fits just right. He's a pretty formidable magical addition to a faction that normally doesn't have much. The Steelhead Arcanist retails for $14.99.
Garryth, Eye of Vengeance
This sneaky mage killer has a rifle that he calls Void Singer. He likes to take out his opponents from a distance, but you can pick him up for the MSRP of $16.99.
All of these miniatures are available now from game stores near you, and even if they don't carry Privateer Press products, they can probably order them in for you!
Enjoyed this article? Share it!