Last month, Games Workshop held a weekend "Thank You" event for their new and established patrons alike. Throughout the weekend of October 27th and 28th, over 300 hobbyists gathered at the Grapevine Convention Center in Grapevine, Texas to celebrate just that, the hobbyists!
Back in April, Games Workshop announced their free New Hobbyist Expo for people who started playing Warhammer in the last year, as well as for those veteran players who brought five or more new people into the hobby. The only requirement for admission was to go into a Games Workshop/Warhammer store and ask for a ticket.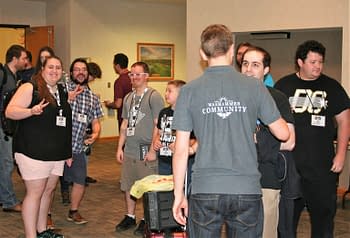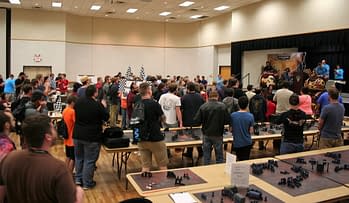 From a congoer's perspective, the event was fantastic! Admission, parking, and the con-exclusive special events were all free. Day-of registration was quick and streamlined, and the free swag including event backpack, water bottle, and lanyard were more than worth the offered early online registration. Onsite food was inexpensive and a great value; I mean, $6.50 for hotdog, mound of fries, and two cans of soda is a banging good deal, especially at a convention. If that wasn't enough to make the plane ticket and hotel stay worth it, the once-in-a-lifetime miniature painting classes taught by none other than the Patron Saint of hobby painters himself, Duncan Rhodes, really sealed the deal on experiences versus expenses.
The Expo had many of the fun things that you expect at a convention including a costume contest, tables set up for provided boxed game play, a painting contest, and a small store, just in case you hadn't been able to buy the brand new set of models that your army isn't complete without. Tables of war-gaming terrain waited for players to eviscerate each other on, organized tank battles, and Ork speed wagon races that excited the masses so that you could hear the "Waaahhh" cheers from outside the building. The Speed Painting event was held several times throughout each day, providing you a pre-primed model and paints and brushes to have yourself a lovely painted mini in about 45 minutes, as long as you were able to paint with distractions! When you finished there, you could head over to the Conversion Mayhem table, surrounded by sprues and bits, and have a free-for-all at creating the most out of this millennium model you could think of.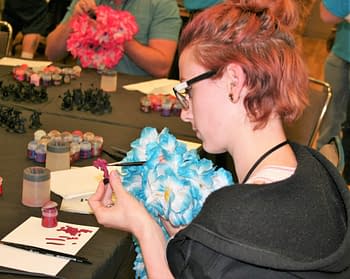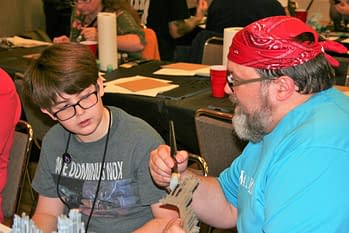 The painting class alone made the entire trip worth it for >this< writer. Four classes were held throughout the weekend, and each painter was gifted 15-20 brand new Citadel paints, 6 Citadel brushes, and the miniature Space Marine to paint to faction specifics. Each person was able to get one-on-one pointers from Duncan, as well as help from the fantastic event staff, and the skills to be able to go home and paint more precisely and better overall.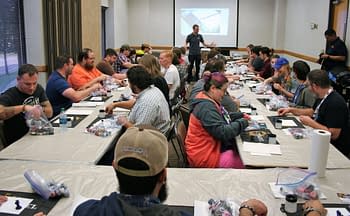 Raffles were held throughout the days, with prizes such as full Age of Sigmar armies and Warhammer 40K battle boxes, all worth at least $100 each, and the raffle tickets were included with the registration packet. There were also tables of unpainted terrain set up that if you took some time to learn to paint, you received a separate raffle ticket. At the end of the day, there were drawings for the completed 4' x 6' terrain tables, all wrapped up and sent home with you free of charge! By the end of the weekend, 6 different people went home with brand new, fully painted tables!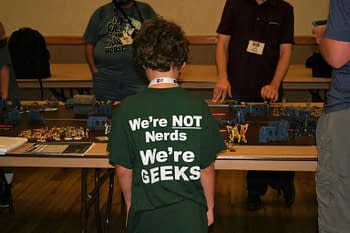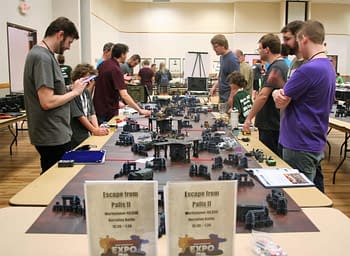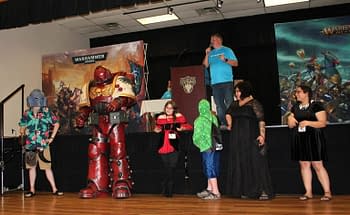 If you're still looking for a downside, don't be alarmed, so are we. Throughout the weekend, there seemed to be only one small hiccup regarding registration for the special painting class, but the Warhammer event staff was more than accommodating to make up for it.
The Games Workshop North America Staff went above and beyond to make the New Hobbyist Expo weekend an amazing experience. I hadn't hear of a convention that was specifically created to say "thank you" to their customers, and Games Workshop did just that. Keep an eye out here for information about next year's New Hobbyist Expo, or just head down to your local Games Workshop and Warhammer store to learn more!
Enjoyed this article? Share it!