New Holiday Miniatures for Wild West Exodus!
Warcradle studios is at PAX Unleashed in Philadelphia today, and they just released images of their new seasonal miniature for Wild West Exodus! It's Krampus, kids! Hooray!
Such majesty. Such epic, brutal holiday cheer. So many severed body parts… He even comes with a lovely basket to stuff misbehaving kids into, which should teach all those naughty children to stop fudging their dice rolls.
Last year's seasonal offering from Warcradle is available again this year as well, so here's your chance to get Kyle the Red and White if you missed out last year!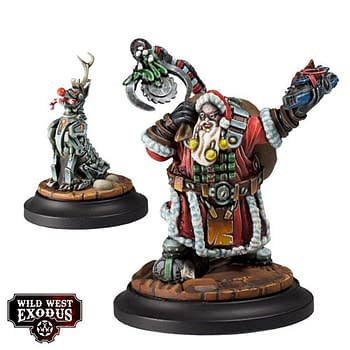 These figures will only be available during the month of December, so get them now!
Warcradle Studios will be at booth 1907 during PAX Unplugged showing off all kinds of great minis and accessories for Wild West Exodus, Dystopian Wars, and more!