Star Wars: Legion players looking for something new to reinforce their troops are about to get two shiny new options from Fantasy Flight Games. Imperial players will be getting that spiffy tank from Rogue One, while Rebels get some sleek new backup with the all-new X-34 Landspeeder. Let's start out with that tank!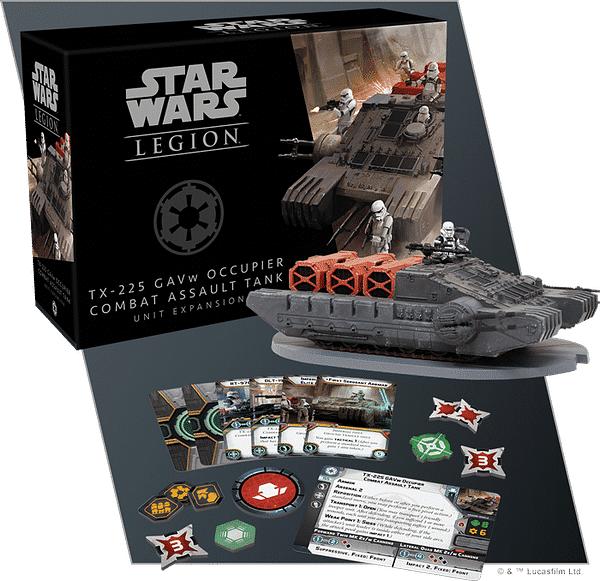 Few symbols of Imperial occupation are more readily apparent than a TX-225 GAVw Occupier Combat Assault Tank. Heavily armed and capable of carrying either cargo or personnel, one of these tanks can be a versatile asset to stormtrooper detachments on occupation duty.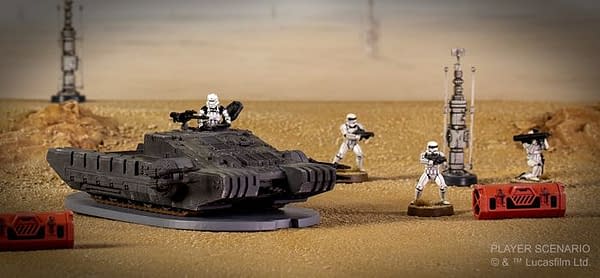 The TX-225 Occupier Assault tank is the perfect replacement for Imperial commanders who want to pack some punch without deploying the far more expensive AT-ST. With forward twin MK 2e/w cannons and lateral quad MK 2e/w cannons, the Occupier can lay down heavy fire-power against enemy vehicles and infantry alike. Although the Occupier is shown hauling cargo, those containers are removable, allowing Imperial players to utilize the occupier as a troop transport.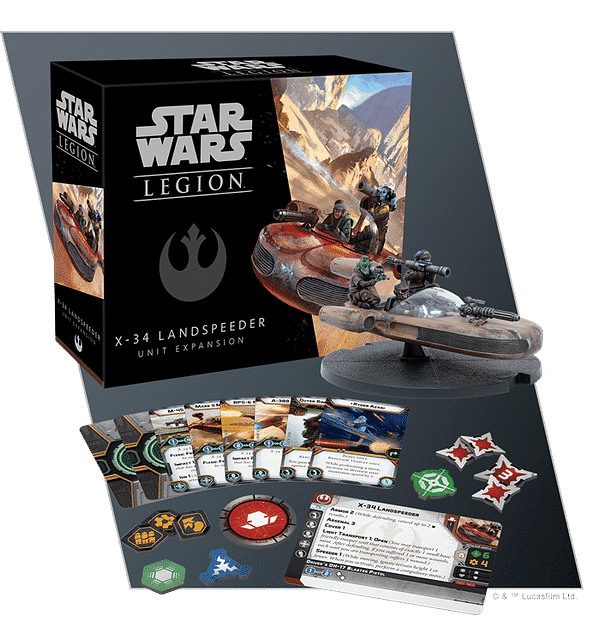 Rebel players get what we think might be the coolest mini to date for the Star Wars: Legion range, the X-34 Landspeeder. Sure, it's got the classic lines of Luke's old beat-up junker, but (hold on, we're hyperventilating) this version can upgrade the crew to include side gunners, like this cool Rodian and Twi'leck duo: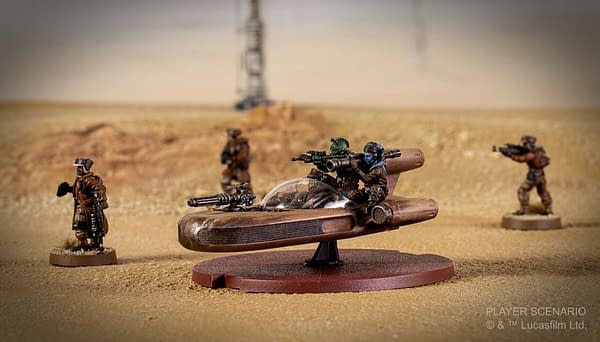 When we wished for a Twi'leck with a rocket launcher from that weird monkey paw, little did we know…
First off, the X-34 looks so amazingly cool. With optional load outs for blaster cannons or ion guns, this zippy little speeder can also transport a single figure into battle:
as a vehicle with Light Transport 1, it can transport one friendly trooper unit consisting of exactly one small base mini, perfect for delivering a commander like Luke Skywalker into the heart of battle, where he can do the most damage. Even if your X-34 does come under enemy fire on the way to an objective token, it remains surprisingly durable. With Armor 2, it can cancel up to two hits while defending, giving it a chance to weather enemy fire long enough to deliver its passengers.
Second, we're probably going to go broke buying this model multiple times for the crew options. Both the Rodian and Twi'leck look like they could be swapped out with regular rebel troopers, allowing for some cool custom options for your rank and file infantry models!
Both the TX-225 GAVw Occupier Combat Assault Tank and X-34 Landspeeder will be available during the second quarter of 2019, so check with your local game shop now to get your pre-order in place.
Enjoyed this article? Share it!