Pokémon GO is bringing GO Fest, their annual, international series of events, to players remotely this year. Niantic, the mobile developer behind the game, has been slowly rolling out information about the event to players ever since announcing the event would continue without a central location as a response to COVID-19. Just this month, a trailer directed by Star Wars: The Last Jedi's Rian Johnson was released to get trainers worldwide excited for GO Fest 2020. Weekly challenges leading up to the main event, which will take place July 25th and 26th, have also teased information as to what might happen at GO Fest 2020 itself. Now, in effort to help Pokémon GO players create a GO Fest experience like the in-person events of the past, Niantic has released a series of print-at-home items.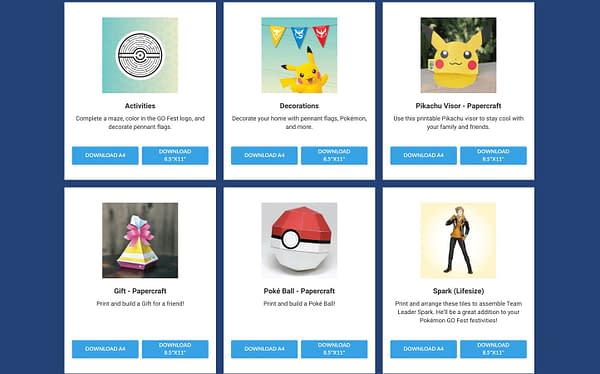 You may require a great deal of paper for some of these, because Niantic is offering life size versions of their characters for GO Fest 2020. Their update reads:
At Pokémon GO live events, life-size cutouts of Professor Willow, Spark, Blanche, and Candela provide popular photo opportunities. Bring that experience home with life-size printouts! Print and assemble the professor or team leader of your choice. You can also color in decorations, build a Gift, or create a Poké Ball—the possibilities are endless!
The DIY element seems like a lot of fun. There are elements of the in-person events that can't be replicated in GO Fest 2020, such as trading with international strangers for the rare regional Pokémon, but Niantic's efforts to enrich the experience are admirable. They continue their update, writing:
Represent Team Instinct, Team Mystic, or Team Valor proudly and share your Pokémon GO Fest celebration by putting up decorations around your home or on your windows! And what's that? How did a Team GO Rocket flag get into the mix? Odd…
That last bit is intriguing, as Niantic has often alluded to Team GO Rocket events by hiding clues in plain sight. Last year's GO Fest even included a real life Team GO Rocket balloon that floated over the park's location. Though it remains to be seen what involvement Team GO Rocket will have in GO Fest 2020, and if any new Shadow Pokémon will be available, one thing is clear: from their rollout, to efforts like this, Niantic is doing their all to make sure Pokémon GO remains playable and safe for players during the current situation.
Niantic's GO Fest papercrafts can be accessed on their events page.
Enjoyed this article? Share it!