For the past week or so, we've been getting teases about who the new Overwatch hero could be and what role that person will be playing in filling that vital #27 slot. Turns out, Blizzard's own PR team may have just given it away. Earlier today we got this lovely image below, showing off another piece of armor that appears to be a shield of some sorts. In standard teaser fashion, it appears the Overwatch team were trolling their fans a bit, making us believe that some of the drawings around it were for the rejected hero Jetpack Cat. Even showing off a cat's tail in the photo.
"Last minute check! Everyone squared away?" pic.twitter.com/67cBBvIgzs

— Overwatch (@PlayOverwatch) February 27, 2018
It's almost a certainty that we're not getting a cat with a jetpack, but a lot of teasers of information and Torbjörn's designs made it seem like the reveal would either end up being the lost soldier Emre Sarioglu or Torbjörn's daughter Brigitte who is currently a squire for Reinhardt. Well, it looks like we may already know, as GameRant picked up this Tweet sent out tonight by the Japanese Overwatch Twitter feed.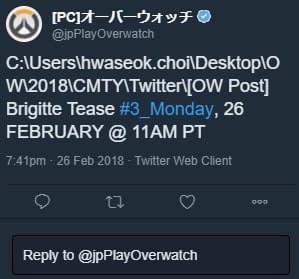 So, yeah. The Jetpack Cat is pretty much out of the bag due to some miscalculated social media, which has since been deleted. Still, we have no idea what Brigitte looks like in her gear or what she can do in the game, so there's still a large element of surprise on the way. We'll just have to contain our real surprise over her addition until Blizzard makes the official reveal.
Enjoyed this article? Share it!