Pearl Abyss has introduced a brand new class to Black Desert Online as players will now be able to take everyone on as the mighty Guardian. The character will be available on January 22nd with pre-registration being available on December 24th. This is essentially a badass woman fighter with a battleaxe that can wreck everything in its path. Enjoy the info on the character and trailer below before they power their way into Black Desert Online next month.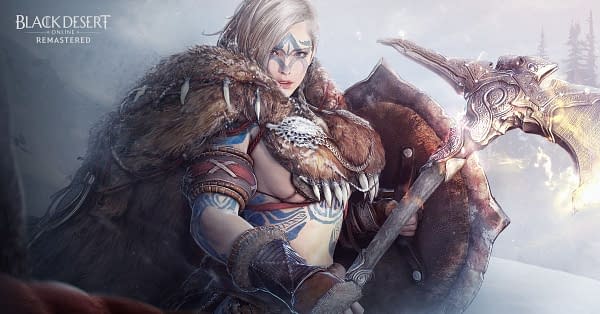 The Guardian is a female combatant from the mountains who follows the will of the ancient dragon Omua. This hardened warrior must wade through the turmoil of her fragmented memories and willingly made a pact with the Black Spirit in search of Ynix, the holy flame that could kill even the gods…

The Guardian wields a battleaxe and shield and uses heavy melee attacks to suppress her enemies. She charges enemies and grabs them by the neck to smash them with her shield as her axe mercilessly hacks away at her foes. She is the bastion of the battlefield and strikes with perfectly calculated blows to fend off all who dare oppose her. The Guardian uses a variety of skills to control the ebb and flow of the battlefield with wide and powerful strikes of her axe and shield.
Enjoyed this article? Share it!