It was a busy week for Pearl Abyss as they both launched Black Desert Mobile this week for iOS and Android, but added a new Xbox update. First off, Black Desert Mobile is a slimmed-down version of the game, as you will choose from one of five available character classes. You can pick Warrior, Witch, Ranger, Giant, or Valkyrie. You can take on quests to level up the character and build their camp. You can do solo, multiplayer, or other variations of combat. Including Ramoness, a 3-on-3 PvP mode with an "efficient matchmaking system", and the Ancient Ruins co-op boss raid instance. As for the Xbox update, they have added the Valkyrie to the mix of classes you can play as, as well as the addition of Alchemy Stones. We have their info below, as well as a trailer for you to check out.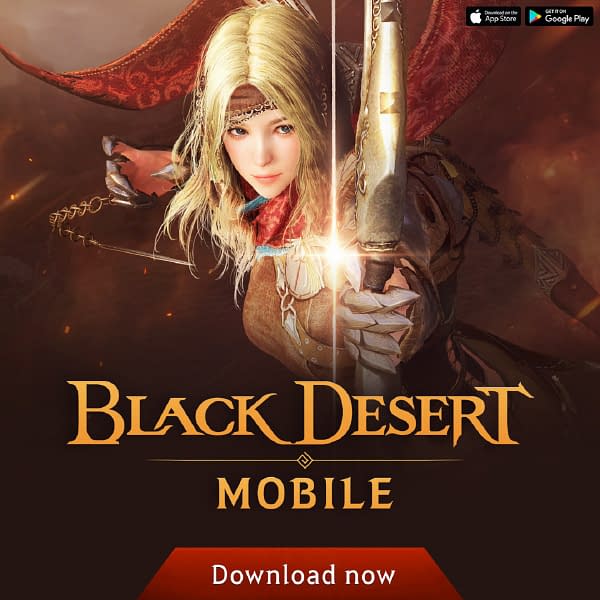 Valkyries is a fabled combatant that's a perfect fit for players that enjoy dependable both offensive and defensive skills. Players of any skill level looking for a boost can now use the new Alchemy Stone items, choosing from different buffs including Destruction (offense), Protection (defense) and Life (life skills).

Valkyrie Skills
● Celestial Spear – The Valkyrie raises her sword to the sky can calls down a spear thrown by Elion himself, knocking Valkyrie's foes to the ground.
● Judgement of Light – The Valkyrie calls out for Elion to deliver his final judgement on those unworthy. The power of the blast causes enemies to bounce high in the air, dealing an incredible amount of damage.
● Sacrum Ferit – Using her powerful shield to open up the enemies defences, the Valkyrie lunges in with her Lancia, piercing through multiple enemies.
● Hastiludium – The Valkyrie charges into the front lines, hitting all those in front of her with her powerful Lancia attacks.

Alchemy Stones
● Alchemy Stones are an equippable item that provides buffs to your character at regular intervals.
● You can carry or store as many different types of Alchemy Stones as you want, but you can only equip one at a time.
● You can purchase Alchemy Stones from the Central Market, but you can also create them as long as your alchemy level is Skilled 1 or higher.
Enjoyed this article? Share it!