Pixel Reef Reveals The PC Release Date For Paper Beast
Pixel Reef revealed this past week when we'll finally see Paper Beast released on PC, and it's a lot closer now than we once thought. The game has already been released onto PSVR and is doing alright there, but now we know the VR title will drop for PC on July 24th, 2020. The PC version will be a little more polished and flow better for those of you who might be curious as to what will really separate it from the PSVR version. With good cause, no less, since PC will allow the game's engine to give these creatures a lot more fluid movement and a sense of realism since many of them are fantastic creatures. You can check out the latest trailer for the game below, along with more info in case you haven't checked it out before.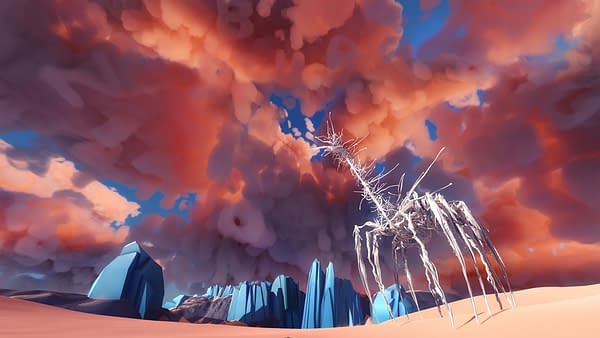 As the first explorer of this virgin land, players discover that interaction with creatures is the heart of gameplay, forming delicate bonds with fascinating and exotic creatures. By supporting the efforts of these creatures they make progress in the adventure: together they overcome obstacles and environmental puzzles. Players can save creatures from predators or natural dangers, shape the environment, and survive digital storms. Every interaction is powered by a unique and extensive physics engine. Paper Beast was created for virtual reality: through experimentation and manipulation, players will come to understand the mysteries of this universe. Two modes are available for Paper Beast: an adventure mode for players to explore a dreamlike world, inhabited by fascinating creatures, and sandbox mode, an almost-infinite playground where experimentation within the ecosystem plays a major role. The player can sculpt the terrain, create rivers, play with the weather, and interact with creatures and plants.