Pokémon TCG Early Opening: Scarlet & Violet Elite Trainer Box
Pokémon TCG Early Opening: Let's see what one of the new Scarlet & Violet Elite Trainer Boxes look like ahead of the late March release.
---
We are just one day away from pre-release events of the next Pokémon TCG expansion, Scarlet & Violet. This is not just a new set but, indeed, a whole new era for collectors and players alike. With Sword & Shield now wrapped after running for three years, Scarlet & Violet introduces Paldean Pokémon to the hobby for the first time, along with changes to gameplay and collectibility. Pokémon V and VMAX are out, replaced with Pokémon ex and Pokémon Tera ex. Yellow borders and set symbols are out, replaced with silver borders and set codes to better match Japan's sets. Rainbow Rares are gone, with the new Secret Rares consisting of Full Arts (yes, Full Arts are now considered Secret Rares for the first time), Illustration Rares, Special Illustration Rares, Gold cards, and more. The Pokémon Company International was kind enough to supply us with new Scarlet & Violet products so we can give you an early peek at these changes to the Pokémon TCG. These products include a Scarlet & Violet booster box, a Scarlet & Violet Elite Trainer Box, and a Scarlet & Violet Build & Battle kit. In this installment of our three-part early opening, we'll be opening the Elite Trainer Box.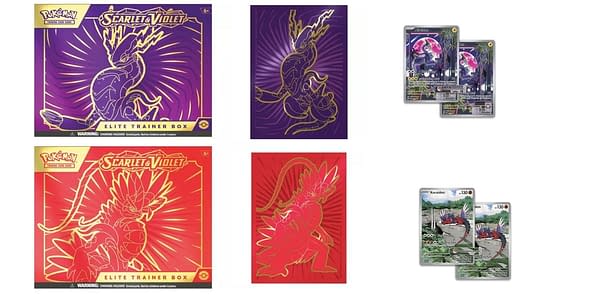 First, I'm starting each one of these openings by talking about pack structure. If you already catch one of the others, this is the same information. This is very important for collectors, though, as this is the biggest change we've ever seen to the structure of a basic pack. Each pack contains ten cards, but we are not guaranteed three holos… kind of. This is a major change from before, of course, as most packs, aside from special sets, didn't guarantee anything. The structure of a pack that people will consider to have "no hit" will end with the final three cards being a reverse holo, a second reverse holo, and a holo. Where are regular rares? Gone. Now, the hits can be found in different places. Illustration Rares will take the place of the second reverse holo. Full Arts and Pokémon ex will take the place of the holo.
In addition to changes made to the pack structure, so too have changes been made to Elite Trainer Boxes. These now will include nine packs rather than eight and will also include a SV Black Star Promo. There are two boxes this time around themed to Koraidon and Miraidon. I opened the former. The promo card in it was a Koraidon Illustration Rare, so of course, the other box will include a Miraidon Illustration Rare.
Now, what did I get from the packs?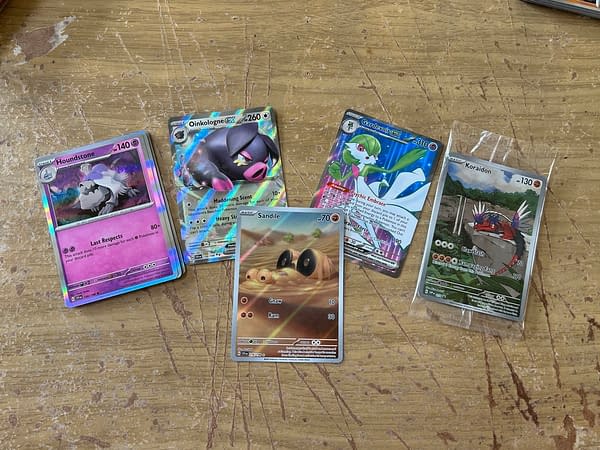 My hits included:
Guaranteed SV Black Star Promo: Koraidon
Pokémon ex: 1
Tera ex: 0
Full Art Pokémon: 1
Full Art Trainer: 0
Illustration Rare: 1
Special Illustration Rare: 0
Gold Secret Rare: 0
This was a fairly standard Elite Trainer Box that was certainly made better by the promo card. A promo card in every Elite Trainer Box is a major change for the better, and it's greatly appreciated.
What I wish had changed but didn't is the quality of the card sleeves. They still use a foggy matte film which makes them poor choices to display cards. If the Pokémon TCG is intent on mirroring Japan more, which I support, I hope they'll soon mirror the velvety quality of Japan's card sleeves as well.
One additional note here is that Full Art styles change with the eras. XY featured gold line art with a colorful background, Sun & Moon featured blue line art for standard Pokémon and red for Ultra Beasts over a flat type-based color background, and Sword & Shield featured silver line art over a colorful background. The colorful background continues, but now the line art color of the Scarlet & Violet era is neither scarlet nor violet but indeed green. It looks terrific, as you can see on the Gardevoir that I was lucky enough to pull.