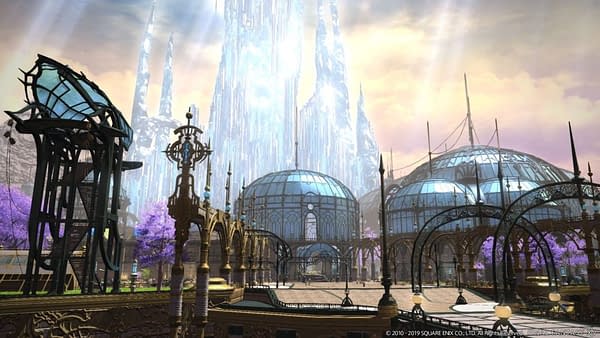 At last weekend's Final Fantasy XIV Fan Festival in Tokyo, Square Enix released a ton of information on the new areas, raids, jobs, and races coming to the game with the Shadowbringers expansion this summer. One of the new areas revealed was The Crystarium, which might look familiar.
If you paid attention to game tech demos back in 2005, you'll have gotten a look at an early version of Final Fantasy XIV as part of a Direct X demo. The demo footage included a level that looks like an older version of the Crystarium.
Since Shadowbringers partially takes place on the First World, the idea of re-using old demo maps is fitting. After all, why not bring back scrapped designs for a world overrun by creatures of light? Makes you wonder if some of the other Shadowbringers areas are based on pre-existing concepts, as the expansion has been in the works since before the launch of Stormblood.
Final Fantasy XIV is available now on PS4 and PC. The game's third content expansion, Shadowbringers, will launch on July 2, 2019 with pre-order early access for beginning on June 28th.
You can check out that demo below, courtesy of Smiffleblurf on YouTube.
Enjoyed this article? Share it!