Pokémon TCG Releases First Partner Pack: Unova
All of the noise in the Pokémon TCG right now is focused on the upcoming expansion, Chilling Reign. This weekend, participating tournament stores can sell Build & Battle Boxes, which will offer four Chilling Reign packs and a stamped promo weeks ahead of the expansion's official release on June 18th, 2021. However, this isn't the only product released by the Pokémon TCG this week. When you get out there to look for Chilling Reign Build & Battle Boxes, don't forget to pick up the latest First Partner Pack.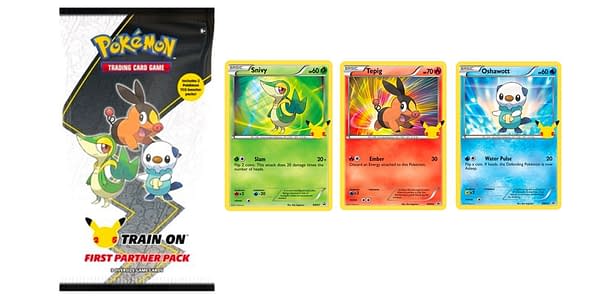 Yesterday, the Pokémon TCG released the First Partner Pack: Unova, the fourth in this ongoing series of jumbo cards created to celebrate Pokémon's 25th Anniversary this year. These jumbo set each reprint an iconic card featuring the three starter Pokémon of a region. The series began with Galar, the newest region, and counts down through the regions with a new release every month with plans to wrap up in October with the release of First Partner Pack: Kanto featuring Bulbasaur, Charmander, and Squirtle cards. Each of these jumbo cards are stamped with a foil P25 logo for the anniversary and retains the original set numbering of the card they're reimagining.
The First Partner Pack Unova features the Unova starters Snivy, Tepig, and Oshawott. In addition to the jumbo cards, each of these oversized packs comes with two standard booster packs. I opened one myself (stay tuned for the review tomorrow) and watched a few openings to confirm, and it seems that every pack opened includes the same boosters: one Sword & Sheild – Battle Styles and one Sun & Moon base.
The First Parnter Packs that have yet to release are:
July 2021: First Parnter Pack: Sinnoh
August 2021: First Parnter Pack: Hoenn
September 2021: First Parnter Pack: Johto
October 2021: First Parnter Pack: Kanto
There is one jumbo card in this set unavailable in these packs. The Pikachu card, designed after the original Pikachu from Base Set, can only be found in the First Partner Collection Binder, which is specifically designed to hold these oversized cards.