One of the newer retro console players to come out of the woodwork recently is the Polymega HD, boasting that it can cover nine different libraries. Recently they've been promoting the TurboGrafx-16 module that you can add to the front to play games from the series, but today, they let fans know that it will come with five licensed games built into the system. You can read more about it below and see the trailer as the $300 console will be released sometime in the Fall of 2019.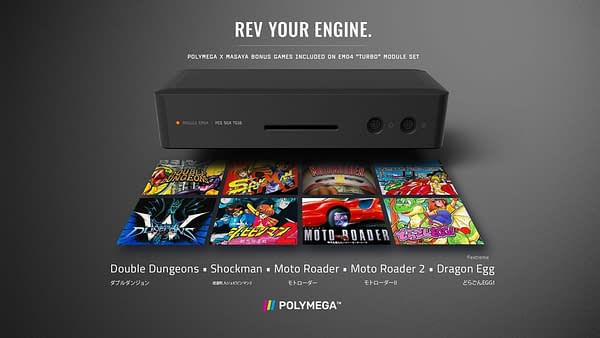 With this module, owners will be able to play original TG-16 and Japanese PCE HuCard games on the system region free, using either OEM controllers or the in-house designed 6-button "Turbo" retro controller, one of which is packed in with each Module Set. TurboGrafx CD and PC-Engine CD games can be played through the base unit itself, without the need for a module.

Bonus Digital TurboGrafx-16/PC-Engine Pack-in Titles:

Moto Roader モトローダー (NA + JP Versions)
Moto Roader II モトローダーII (JP Version)
Double Dungeons ダブルダンジョン (NA + JP Versions)
Shockman 改造町人シュビビンマン2 新たなる敵 (NA + JP Versions)
Dragon Egg どらごんEGG! (JP Version)
Enjoyed this article? Share it!