Prison Architect Announces New Jungle Pack & Free Jailhouse DLC
Prison Architect has two new additions on the way from Paradox Interactive with a freebie and a paid DLC, both happening next week.
---
Paradox Interactive revealed two new additions coming to Prison Architect as it's getting a free DLC and a paid Jungle Pack DLC. The Jungle Pack is the latest paid DLC that is basically an aesthetic pack for the simulator, as you'll be given a lush tropical forest to work with for your setting. You'll have to manage a compound in a jungle, complete with wooden constructions that hinder development, along with several customization options. Oh, and keep them alive from whatever the mosquitos are carrying out here! They will also release a new free pack the same day called The Jailhouse, which will give you a number of improvements and options for all players. Both of them will be released on February 7th with the paid DLC going for $3.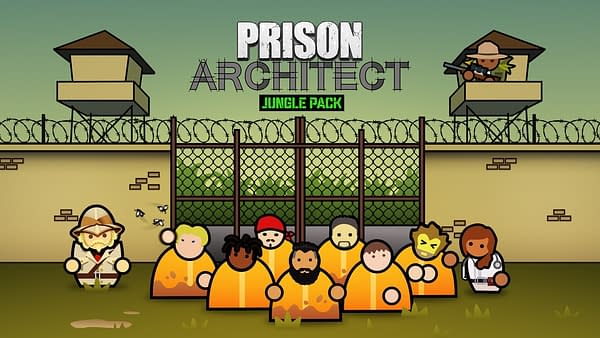 "Far from civilization, Wardens will need to manage their inmates in a challenging tropical environment. Construct a jungle compound outfitted with wooden furniture, new walls and door types, and even an outdoor cinema. Inmates can contract and spread a tropical fever, so Wardens will need to implement advanced medical treatment to combat this threat. A free update, The Jailhouse, will be released alongside Jungle Pack for all players, featuring quality-of-life improvements, including changes to guard behavior, improvements to quick build materials, a small makeover of the deployment scheduler, and the addition of Toby, a Yorkshire Terrier dog. The update also re-balances the Identity Thief reputation and other in-game effects."
It's A Prison, In A Jungle!: Use your surroundings to create wooden furniture, five new flooring types (one specific for water!), one outdoor cinema, plus new walls and doors: all is set to thrive in the jungle.
Tropical Fever (And How To Survive It): Tropical fever can spread among inmates. You can fight and manage it with netted beds, fire pits, and a new, cutting-edge medical program.
A Different Environment: In the jungle, you will find new trees, which can be farmed and sold, or chopped down for lumber. Some wood variants for guard towers, drains, etc. are also available.