Pyra/Mythra Have Now Joined Super Smash Bros. Ultimate
Nintendo officially added Pyra/Mythra to Super Smash Bros. Ultimate this afternoon, and with the addition comes a big update. The characters themselves are now on sale in the eShop for $6 or part of the second Fighter Pass for $30, but the update to the game is free as it adds in a bunch of new items. That includes the new Cloud Sea of Alrest stage for you to battle on. We got the full rundown for you below as well as the video showing off all the character's moves hosted by game director Masahiro Sakurai.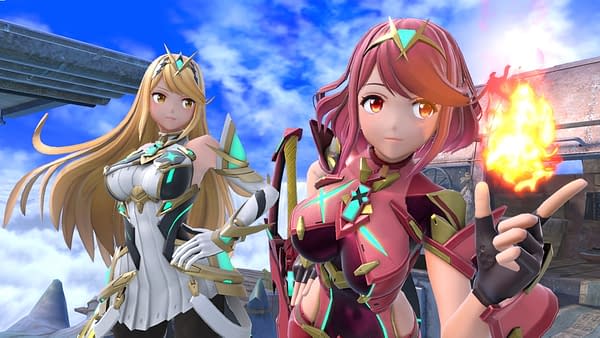 In Xenoblade Chronicles 2, Pyra is a legendary Blade, a living weapon for main character Rex. After a sequence of dramatic events in the role-playing game, Mythra is introduced as another personality sealed inside of Pyra. The two characters, connected by fate in the game, are also connected on the battlefield of the Super Smash Bros. Ultimate game.

Pyra and Mythra are technically one fighter on the selection screen, but players can alternate between them at any time during battle. Pyra specializes in power, while Mythra excels in speed. By changing between the two fighters, players can juggle attacking with powerful abilities using Pyra and swiftly leaping around the battlefield with Mythra. This strategic dual dance makes Pyra/Mythra a unique fighter in the Super Smash Bros. Ultimate lineup.

The new stage that players will receive in Challenger Pack 9 is called Cloud Sea of Alrest, based on one of the most recognizable settings in Xenoblade Chronicles 2. The stage is set on the back of Azurda, a massive creature that swims through the Sea of Clouds. As Azurda travels through the world, players will see familiar characters and sights from Xenoblade Chronicles 2, including flying ships, Titans and vast kingdoms. Characters from Xenoblade Chronicles 2 will make appearances as well, so fans of the game should always be on the lookout to see who will pop up.