Minecraft Launches Ben 10 Content & New DLC This Week
Mojang released two new additions to Minecraft this week as we got the Caves & Cliffs update as well as the new Ben 10 DLC. First off, the update is totally free and has been added to every single version of the base game on the planet, so everyone should have it as soon as you download it. Included in the update are a few new additions and creatures, including the axolotl, a cute goat (which will ram you), a new glow squid and glow ink that comes from it, new blocks of various forms to come across, like amethyst and dripleaf and copper, and the ability to craft a spyglass to see far into the distance. Plus the addition of a new weapon in lightning rods that emit a redstone signal when struck by lightning! As for the Ben 10 addition, we have more info below and you can check out a trailer for it as well.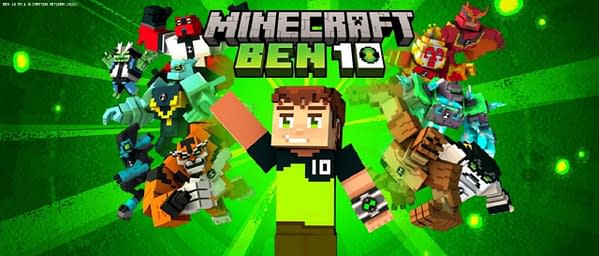 What in the world is causing all that racket? It sounds like some sort of adventure-prone vehicle with two children and a senior citizen on board. Wait a minute, that can only mean one thing – the Rustbucket is here! Are you ready to go hero? I hope so, because the Ben 10 DLC just landed in Minecraft! This DLC comes in two different modes – Story and Free Roam. In Story Mode, you will need to step up and face an epic challenge. Ben, Gwen, and Grandpa Max need your help recovering lost alien DNA from the Omnitrix. Transform into all of Ben's alien heroes to defeat iconic villains like Vilgax, Zombozo, and Kevin 11 as the story unfolds. If you want to access all the alien DNA right away, then Free Roam Mode is for you. Maybe you want to take Rath for a stroll up the side of a skyscraper, or speed down the highway as XLR8? It's up to you to decide which alien is right for the job, but remember – there are villains to defeat in Free Roam Mode too!