Ratchet & Clank: Rift Apart Is On The Way For The PS5
Insomniac Games had a busy day yesterday as they also revealed Ratchet & Clank: Rift Apart will be coming to the PS5 in the future. This is one of those games that didn't come with a lick of information when the trailer dropped yesterday, as the company basically let it speak for itself. According to what we're seeing, the duo are winding their way through the universe the game is set in as it appears time has been shattered into pieces like a mirror. Pushing both characters through different points in time as well as different dimensions of the same world where different factions or creatures have risen to prominence.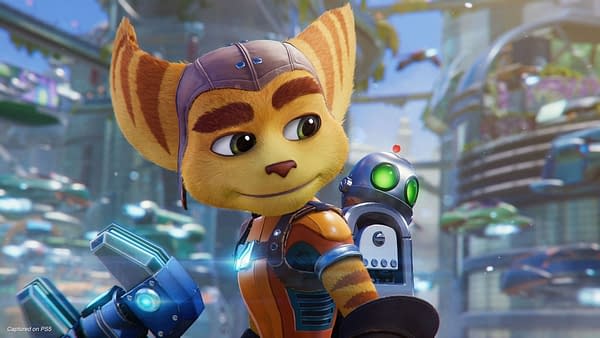 This leads us to the big reveal in the trailer, which is a woman version of Ratchet that Clank is flung into a universe that is almost entirely robotic. Including one of her arms as you can see she's gone for more of the weird dystopian survival look. There's a lot to unpack from the trailer without any kind of descriptor, but it makes for a good way for the developers to create multiple levels for a game that normally wouldn't make a lot of sense sitting next to each other in a narrative form. But the minute you got characters traveling through space and time to places that could be possible alternate realities of where you started, anything is game at that point. Enjoy the trailer below as we basically it for Insomniac Games to give us a proper release date for Ratchet & Clank: Rift Apart. Which we're guessing will be sometime in 2021.