Razer Launches New Effort To Get Face Masks For COVID-19 Relief
Razer has launched a new campaign this week aimed at providing new face masks in order to aid in COVID-19 relief around the country. The effort is called Razer For Life, and the goal is pretty simple. All you have to do is be a part of the company's Pay For Play program where gamers earn the brand's online currency of Razer Silver just for playing games through their system and then pledging what you earn toward the cause. So the shorthand is that you basically play video games and donate what you would earn in their program. Its a pretty genius way of donating to the cause since the currency is already used all the time to buy stuff through their shop, and instead of giving money you do exactly what you should do which is to stay inside with self-quarantine. You can read more about it below.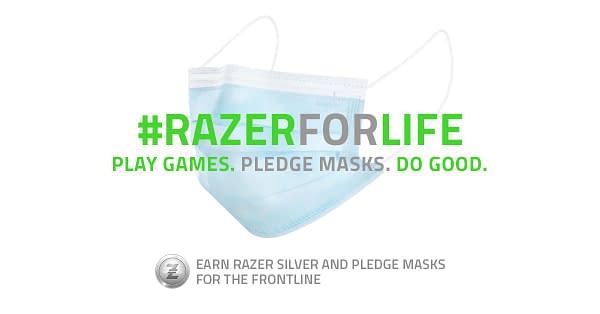 Users can check if their favorite PC or mobile games qualify to earn Razer Silver on the Paid to Play games list from the free Razer Cortex game optimization software available for PC or Android mobile devices. Launching games using Razer Cortex allows users to rack up Razer Silver, which they can exchange to redeem a variety of rewards like Razer hardware, digital gift cards and more games. Now users can also use their Razer Silver to support donating masks for frontline workers.

"We are calling on the gaming community to do what we do best, stay home and game on, and now for a good cause, too," said Min-Liang Tan, Chief Executive Officer at Razer. "Razer's unique ecosystem of hardware, software and services has always been geared towards the gamer and now we have a way to allow the gaming community to directly contribute to Razer's key COVID-19 initiatives. For those who are game enough to rise to the challenge, we are excited to see how many masks we can pledge together."