Review: Dungeons & Dragons – Guildmasters' Guide to Ravnica
Back in late November, Dungeons & Dragons released a brand new rules book called Guildmasters' Guide to Ravnica, giving you options from Magic: The Gathering. We received our copy of the book a little late and we were plagued with the fact that it was the holidays, so getting a game together became a quest of its own. But after finally getting a group together and spinning through the options, we're finally ready and able to review this 5th Edition book for you and what it has in store for any would-be adventurers who dare tread into Ravnica.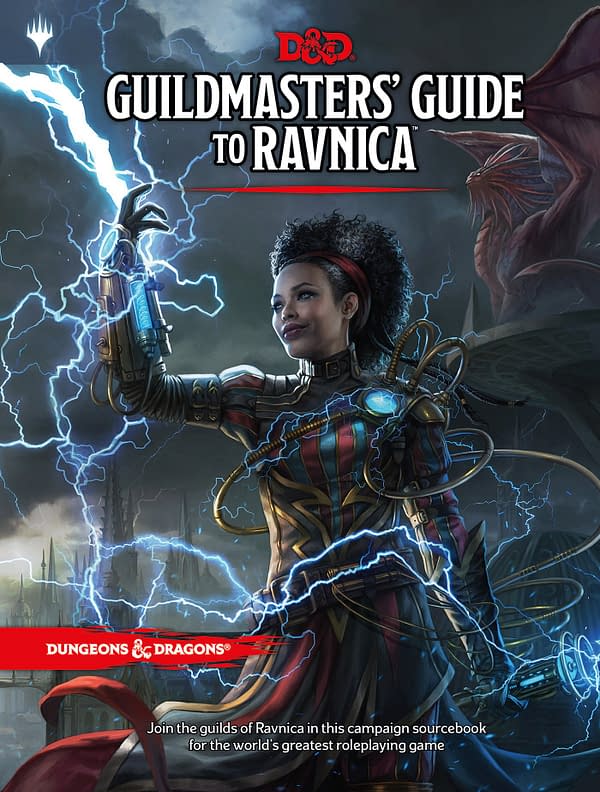 So let's break the ice on this for a moment. Do you need to know what's going on in Magic: The Gathering in order to use Guildmasters' Guide to Ravnica? No! I've been playing MTG for over two decades of my life, and even I don't know what the hell is happening in the game and with the storylines half the time. Knowing Ravnica is cool, but it is not the end-all-be-all of using this guide. I would say that this book serves three specific purposes. The first is to give you more options outside the current D&D landscape, the second is to give MTG players a chance to interact with D&D and vice-versa, and the third is to put players in a scenario they haven't experienced before.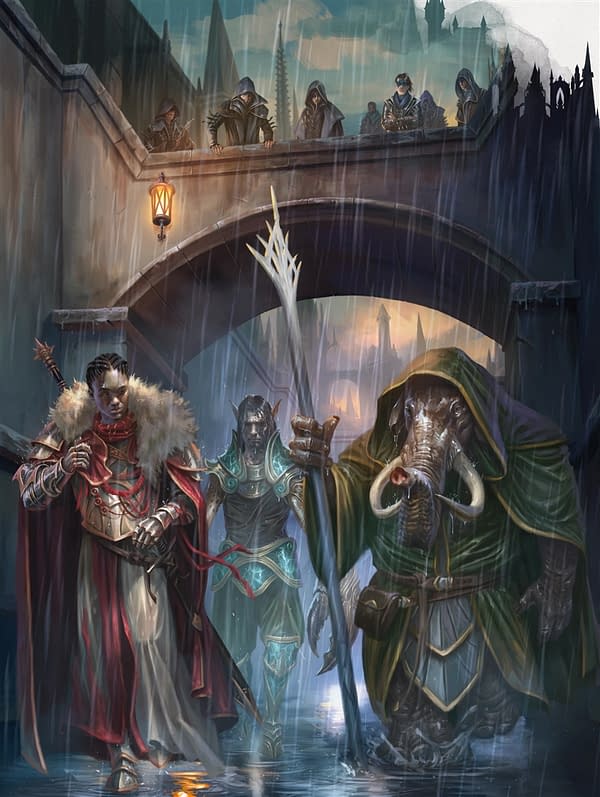 Let's touch on the third for a moment, and bare with me as I keep this very simple for review purposes and not to spoil much. Ravnica, in essence, is a giant city that spans the globe. For ages, people just kept building stuff on top of stuff on top of more stuff on top of all the other stuff they forgot was there. Cityscape as far as the eye can see and everyone living in somewhat harmony. And when we say everyone, we mean everyone. You see dragons in the sky as often as you would see airplanes today, giants walking down the street, creatures that look both enchanting and hideous living their lives as if Manhattan went on forever and they all populated it. That is a hell of a change from D&D worlds where towns are days apart.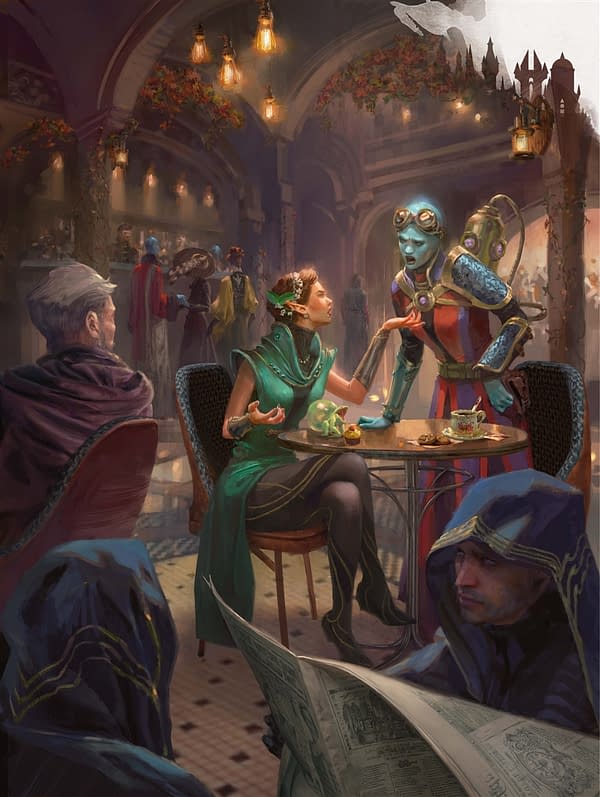 Let's get into your options, and we'll start with the new races. You have Human and Elf as standards with a couple of minor changes, but you also get a new breed to mess with that aren't just taken from monster slots in previous books. You have the option to become a Centaur, Goblin, Loxodon, Minotaur, Simic Hybrid, and Vedalken. All viable options for classes you might suspect and a few you might not. All of the standard classes are in play, as well as a few subclasses, but they're divided among guilds, which we will get to in a second. The ones we had the most fun exploring were the Vedalken and the Loxodon, because there's something about blue people and talking elephants that just amused us.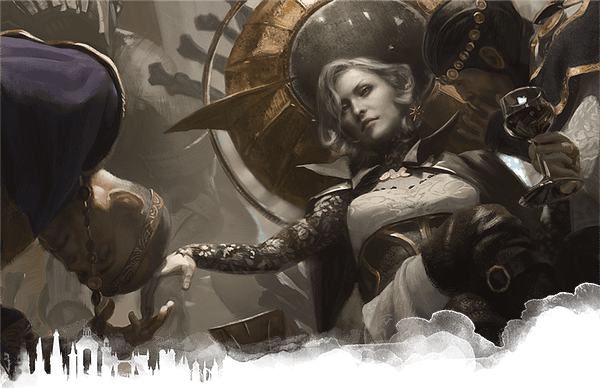 As far as the guilds go, if you're sticking to Ravnica as your home base of operations, this is what will replace your background feature. Everyone in Ravnica belongs to a guild, and there are 10 to choose from. Much like how in regular D&D choosing something like the Urban Bounty Hunter gets you bonuses and special perks, so does being a part of a guild. Depending on the type of creature you chose and the class you went for, it could shape what guild you are in that makes the most sense. The Izzet and the Golgari were fun to play with, but when messing with a Wizard, as I did, I ended up leaning toward Simic. You don't have to be in a guild, but really, at that point, you're just throwing away free benefits.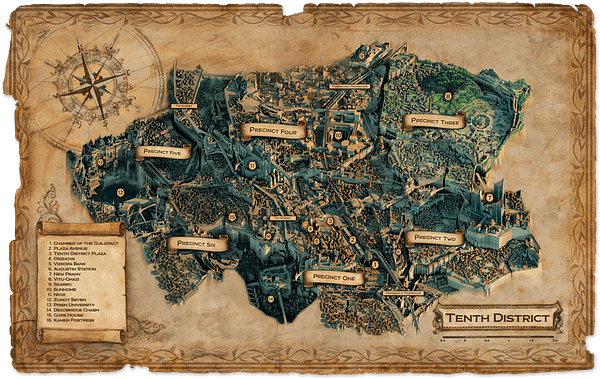 If you're a DM looking to build a story, a good chunk of what happens in Ravnica takes place int he Tenth District, which is divided up into six precincts. Guildmasters' Guide to Ravnica does about as good of a job as it can to give you all the knowledge you need to craft this world as you need be while still being within the realm of what the world contains on the regular. You have the freedom to play with what's here but not enough to completely cripple what's there and disrupt what the basis of what the city is.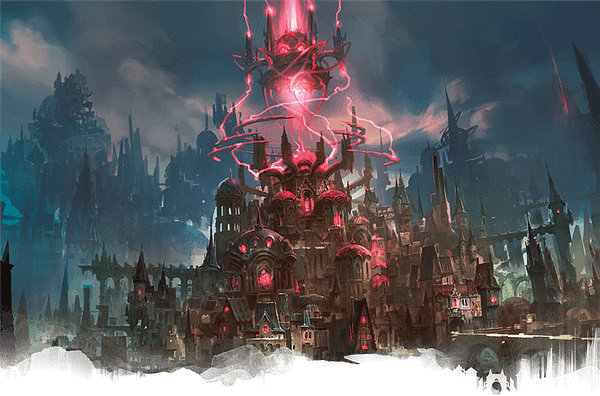 Each precinct is basically a world unto itself. Precinct One is where the wealthy and powerful rule, also known as the Guildpact Precinct. Precinct Two sits in the shadow of New Prahv, it tends to be more of the neighborhood kind of area but it's not free of crime and deceit. Precinct Three is in the Greenbelt, full of beasts and nature and a hell of a lot of forests, including the biggest tree for miles. Precinct Four is basically chaos incarnate as the area is filled with fights and soldiers and bloodshed of different forms. Precinct Five is essentially where you need to go if you want to learn anything as it houses labs, libraries, and whatnot. Finally, Precinct Six is basically the slums of Ravnica filled with factories and people living their lives just trying to get by.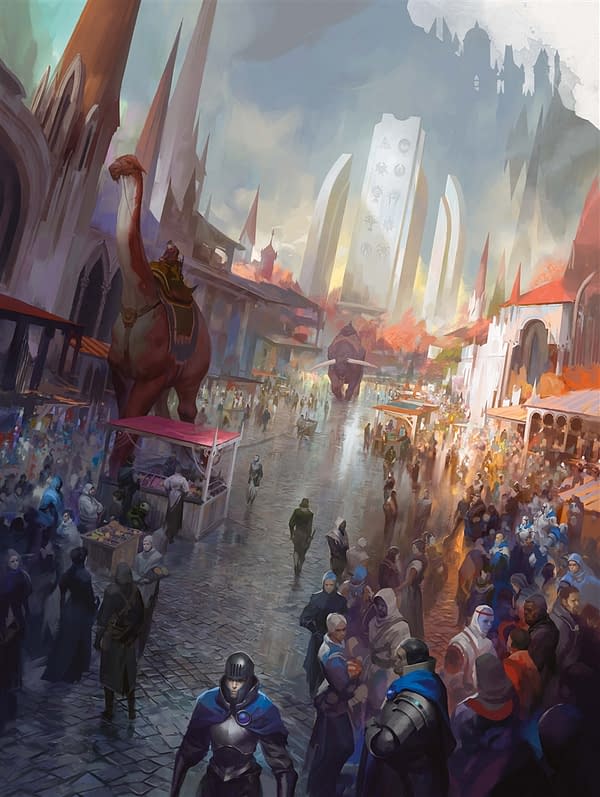 Once you get past all of the character building materials, you find your way into Chapter 4 of the book, which focuses on creating adventures. Specifically, they like to focus on the chaos that can be found throughout the city in different prospects of the clans and officials that run through Ravnica. Everything from inner politics to religious faiths to clan wars and even petty disputes. There's even a section called "Complications" which I find to be funny as hell, just in case you feel like you need to give people a reason to be in conflict in Ravnica, which comes with a D8 roll to add a secondary clan issue to the mix and adding intrigue along the way. There are great opportunities for DMs to have their run of this world and force people into situations they may not like.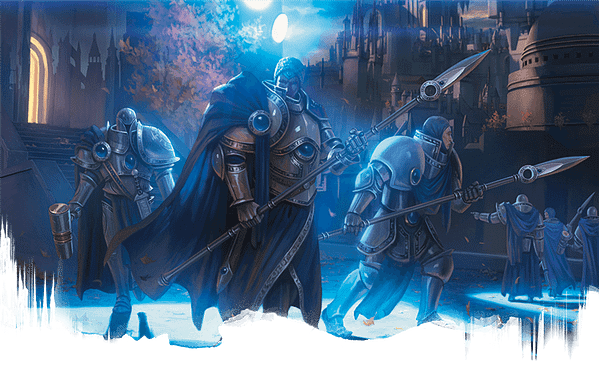 Chapter 5 deals a lot with the treasures you'll find in the book, and oh my, are there plenty of treasures to be found in this book. There's a mix of items taken from the Dungeon Master's Guide and new items added to Guildmasters' Guide to Ravnica to give it a bit of familiar flavor with some spicy new goodness. If you're a hardcore or longtime MTG player, you're going to quickly recognize some of the items at your disposal and the issues that come with them. Like dealing with keyrunes or finding a Mizzium Mortar. They even threw in stuff like the Skyblinder Staff, because, of course, we wanted to make people feel powerful and cursed at the same time. There are a lot of opportunities to mess with people in this game if they don't know what stuff does, even when attuned to it.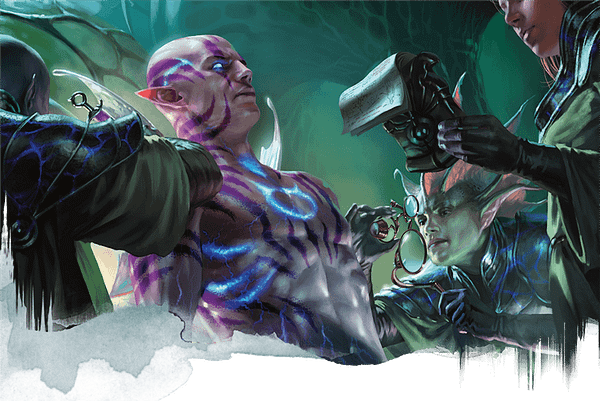 The last bit of the book gives you an NPC and familiar faces guide so that those who know the MTG universe will have some names they can recognize. The NPCs are again divided by clan, so you know who to put where and how their alliances fall. The right combination of people can give you a long and thrilling story that will last you several sessions. The wrong combo will put you in the middle of bloodshed that could end the campaign in two sessions, but what a time those sessions would be! Bear in mind that there's a benefit and a consequence to everyone you add in your game and that even the best choices can provide dire consequences down the road.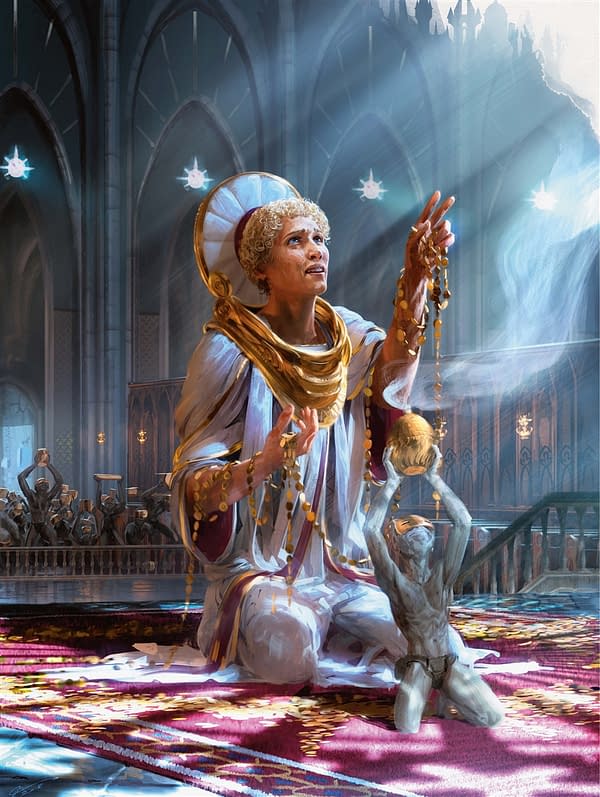 Overall, Guildmasters' Guide to Ravnica is a fine addition to 5E, but I also recognize this isn't going to be for everyone. One of the games I played with the book has two people who have no idea what's going on with anything to do with Ravnica, and even when explained to them, I could tell they just weren't into it. They eventually figured it out and managed to make it work for them, but DM's and players alike should recognize that there are people who love Dungeons & Dragons to death but have zero interest in Magic: The Gathering. I would recommend this book for people who have played MTG and understand a little bit of what's going on, or players who want to learn more about this world and want to incorporate more of it. It's not impossible to get people with no interest involved, but do prepare yourself for a steeper climb up the hill if you do.