Review: GW's "Vanguard Space Marines" – "Warhammer 40,000"
Hello there, loyal readers and fans of all manner of games produced by Games Workshop! Today I have a somewhat different review than anything you're used to seeing from me, or that I'm used to doing for you.
Today, we will be kicking off what I'm dubbing "March, March, March!" (on this very fitting March 4th). So, we are marching forth – somewhere, because honestly, why not? – with Games Workshop's Start Collecting! Vanguard Space Marines box for Warhammer 40,000.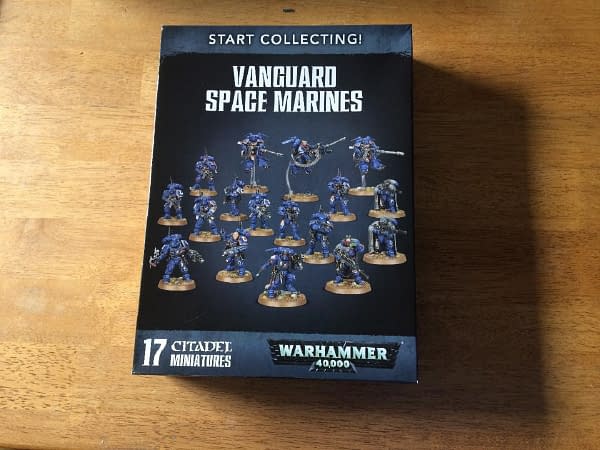 So, this box contains a lot of different models, all in shades of unpainted, unprimed gray (that Ultramarine Blue won't come in handy till they've been primed, after all!). There are seventeen models here. The box comes with all of the following models:
1x Lieutenant in Phobos Armor (the Space Marine in the center bottom of the box face)
1x Eliminator Sergeant (the Space Marine without a helmet, donning a cloak and binoculars)
2x Eliminators (the other Space Marines with cloaks)
1x Suppressor Sergeant (the Space Marine on a flight base that's without a helmet)
2x Suppressors (the other Space Marines on flight bases)
10x Infiltrators (the rest!)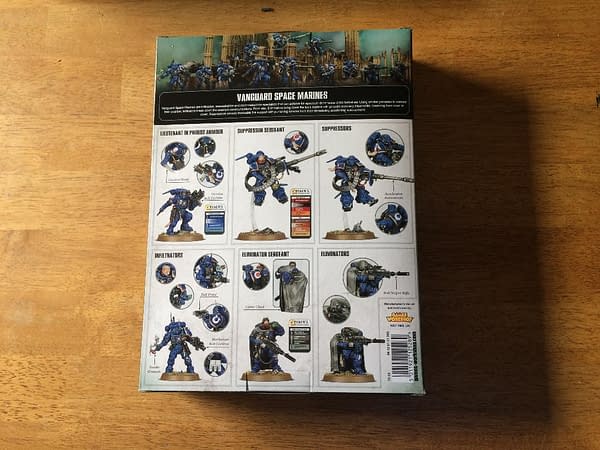 The back of the box shows what colors of paint and washes you'll want for the sake of making Ultramarine Space Marines, just one chapter of the Adeptus Astartes, equally praised as heroes under the watchful eye of the God-Emperor and as scourges of more… heretical factions. To be frank, there are far more chapters of the Space Marines, but they are seemingly too numerous to count offhand, so I'm not about to list them off without a good-old-fashioned Google search.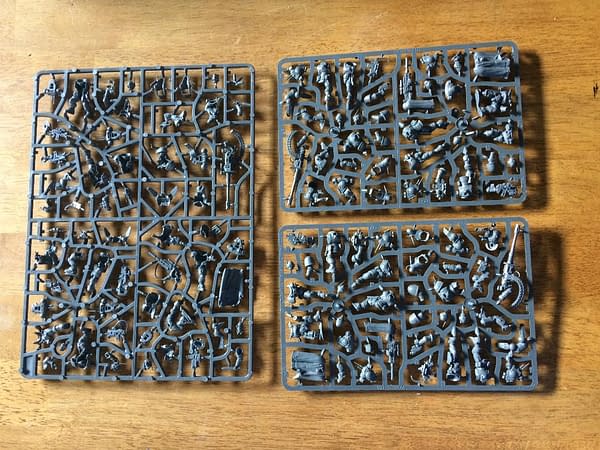 the Start Collecting! Vanguard Space Marines box comes with seventeen Space Marines, as I'd mentioned, on three different sprues. From the looks of it, all the bits from the different units are mixed up on the sprues, and so it's the buyer's responsibility to read the instruction booklet (which also comes with the box, of course!) and unscramble them in a way that pleases the God-Emperor. Or not, if you're a filthy heretic.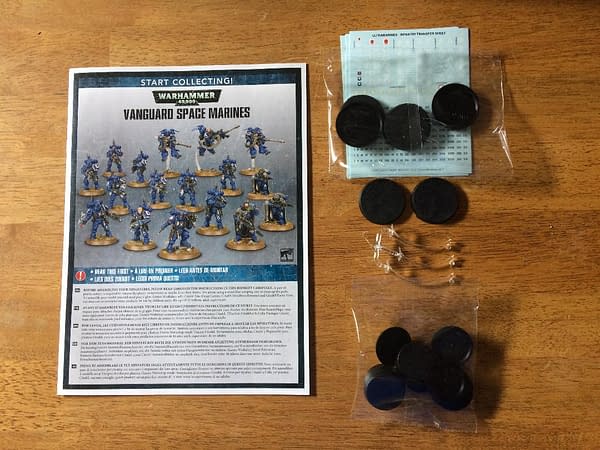 It's also rather interesting to note that besides assembly instructions and bases (including flight stands for your Suppressors), the Start Collecting! Space Marines Vanguard also comes with a large number of decals for those absolutely-precise details on your models. That's really cool, and something I have absolutely no experience with trying, as of yet.
Not yet.
Soon.
What do you think of this boxed set for Warhammer 40,000? Do you like the aesthetic of the Space Marine army? Or would you rather see something like Necrons, Tyranids, or Tau? Or perhaps you just want to see more Warhammer: Age of Sigmar coverage from us at Bleeding Cool – if that's the case, please feel free to comment below! We value any feedback. And, if you just want more Daemons of Chaos, feel free to mention that too. My Nurgle army is getting large.