One of the board games we recently received and had a chance to sit down and review with some friends was The Chameleon from Big Potato Games. We haven't seen much from this particular company when it comes to games for review, so it was interesting to see a big multiplayer game come in the mail. But how well does it hold up?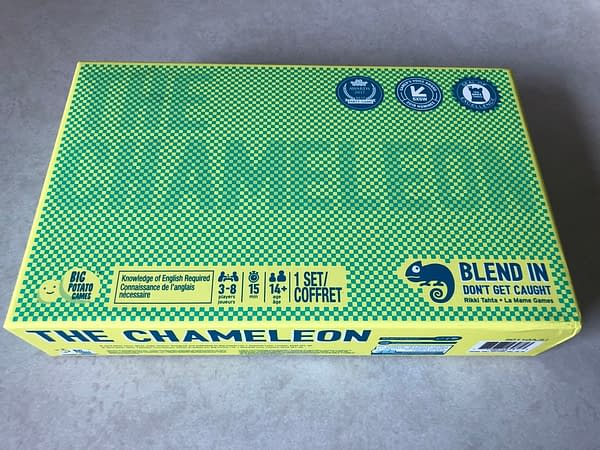 When I first got my hands on it, I could see this was right up my alley as it was a deduction game at heart. The game is for three to eight players where everyone is trying to figure out who is the Chameleon. In other words, who among you doesn't belong because they're not in on what's going on. At the start of the game, you have two different piles of cards to choose from in Green and Blue. Within each set are cards that have specific coordinates on them as well as one that says "You are the Chameleon". The back of the cards are all the same so no one truly knows who got what.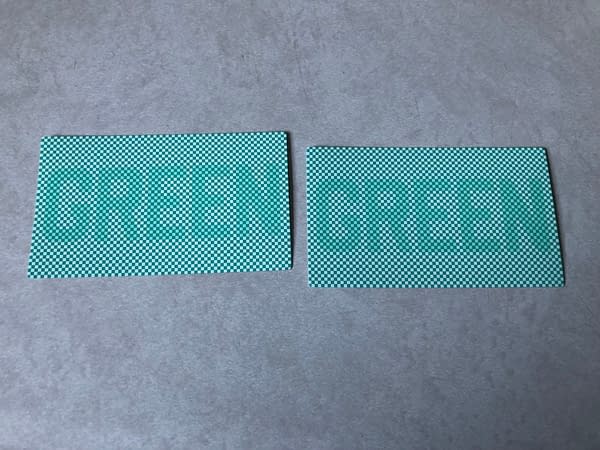 After everyone has their cards, you will pick a topic grid, as you can see here for Zoo. Each grid has 16 words that are related to that topic. A player will roll the D6 and D8 that came with the game, and based on what's on everyone's card, the dice will choose a specific word. So here we got a 4 and a 3, meaning the secret word is in spot A2, which is "Lion". From there, everyone goes around the table and says a word related to that word. The trick here is that the Chameleon doesn't have this knowledge, so they have to fake a response every time. Your words can be as vague or as specific as you want them to be, but be careful as you might tip off the Chameleon. Once everyone says their word, you all get to argue over who you believe the Chameleon actually is.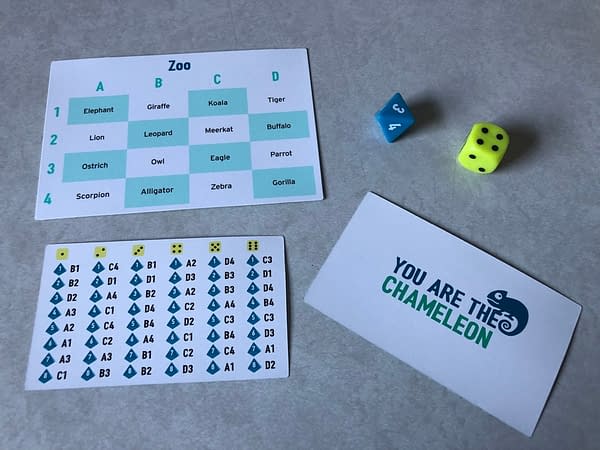 For a couple of games, we left this open-ended with a group of eight, but we eventually had to impose a three-minute timer because arguments over who the guilty party was started to take a long time. All without saying the word. Essentially, you have to find out who has been lying this entire time through reasoning and arguments while everyone defends their response. There's really no rules to this part, which makes it fun to trick people in giving up more than they should. After all is said and done, everyone must point their fingers and vote who they believe is the Chameleon. If they guess wrong, the Chameleon wins the round. If they guess right, that person loses. However, if the Chameleon can guess the secret word, they win the round.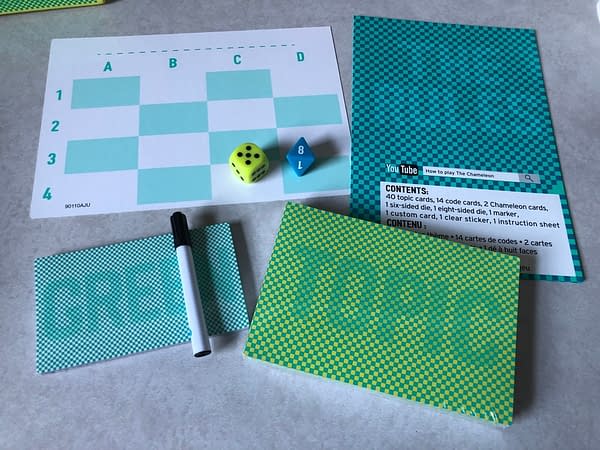 That's really all there is to the rules of this one. Chameleon gets 2 points if they win, the group gets 1 point if they win, and the first individual to 5 points wins the game. If you're into games like One Night Ultimate Werewolf or Secret Hitler, this is going to be your kind of game with less setup. It makes for a good party game as well as something for family and for drunken argument nights. I highly recommend The Chameleon for those who love deduction identity games.
Enjoyed this article? Share it!