RuneScape Will Get A New Lore Chapter Called Desperate Measures
Jagex revealed this week that there's a brand new lore chapter on the way for RuneScape this month called Desperate Measures. The new update will push players to use the recently introduced Archaeology skill as they have to pull the world out of what seems to be a new dark period. The company didn't offer a ton of details as to what the new addition will hold beyond what you see here.
Desperate Measures is a direct follow up to last year's Desperate Times narrative and will continue the Elder Gods questline. Desperate Measures will see players gathering a team and using their Archaeology abilities to discover new mysteries in the dinosaur-infested island of Anachronia. Investigate the Kerapac threat and uncover more information about the Dragonkin, a race of powerful dragon-like creatures. Bringing the game's world of Gielinor to the edge of catastrophe, Desperate Measures will set things in motion that will inevitably lead to the rising of the Elder Gods, and the Elder God Wars. RuneScape members can prepare to wield their powerful Archaeology and Combat skills in readiness for Desperate Measures' arrival on Monday 27th July.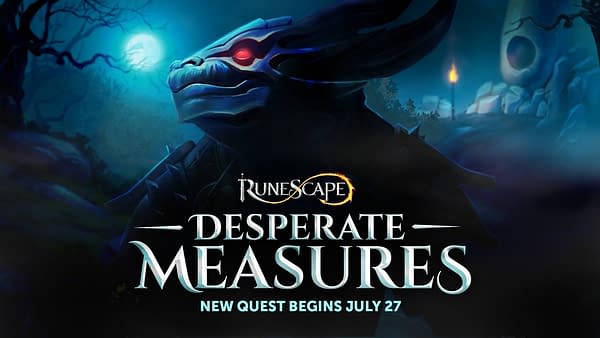 Each time Jagex adds something new to RuneScape, it tends to be a major deal as they are slowly expanding the world more than they already have over the past 19 years. Desperate Times brought in a greater threat to the world in general, as it seems the Elder Gods had some great plans going on. By the end of the entire ordeal, it was surmised that Kerapac intended to sacrifice Gielinor to keep the rest of the universe safe. But that in itself would end up destroying the planet and the Elder Gods on it in the process. This addition will follow up on all of that, but only time will tell what path they end up taking to that end.