"Sea Of Thieves" Announces Monthly Update & "Dark Relics" Content
Rare announced this week some brand new updates coming to Sea Of Thieves, including a free content schedule and the introduction of Dark Relics. The company released a ton of information about their latest update here, which you can read some of it below and check out the latest trailer. But the also announced the new content would be coming to the game, for free, every second Wednesday of the month. So while there are dark times on the seas, it's a good time to be playing the game.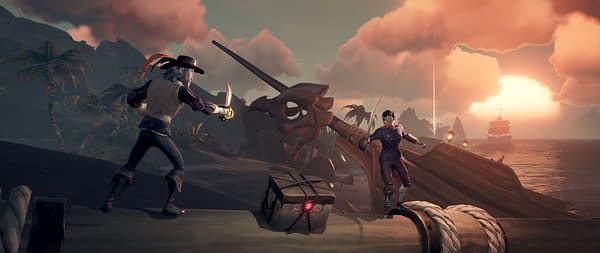 This month, prepare to butt heads with a few skulls as the skeleton hordes attract the ire of the Order of Souls! In a worryingly organised raid, the undead pulled up their proverbial socks and robbed the Order of numerous powerful artefacts – the ominous Dark Relics – and scarpered across the sea. Now, as part of Duke's ongoing efforts to build bridges with (or at least rack up substantial debts from) the Trading Companies, the Order has entrusted him with special Voyages to retrieve the stolen Relics.

Find Duke in the tavern to take on a Dark Relic Voyage, which will involve smashing a certain crew of skellies, taking back their Relic and delivering it to the Order for a handsome reward. There are Voyages up for grabs in The Shores of Plenty, The Ancient Isles and The Wilds, along with Titles and Commendations to earn. Earning Commendations will unlock more items from the highly sought-after Mercenary ship livery set – the cannons, capstan and wheel!

Pirate Legends and their crews can take on a further Voyage in The Devil's Roar which will yield two Relics. There are five distinct types of Dark Relic, with a separate Commendation for selling each, so be on the hunt for the Enchantment Vessel, Hexing Skull, Evil Eye, Mutinous Effigy and Bewitching Doll. If you have spares or just can't seem to complete the set, consider trading with other crews out hunting Dark Relics themselves…

Reports are also coming in of skeletons dropping Ritual Skulls, for which the Order (and for Legends, the Mysterious Stranger) will pay well. Meanwhile, Duke also wants pirates to watch out for Reaper's Chests – a strange new type of treasure that has begun to appear in shipwrecks and looks set to be a permanent addition to the Sea of Thieves. Cursed with the Reaper's Mark, just like the flag, these chests attract attention and can be spotted on all ships' maps! Getting one back to Duke won't be easy, but it will earn you Doubloons. What's inside them? Not even Duke knows yet. Spooky!