SEGA Reveals the Full Details on the Sega Genesis Mini
SEGA has finally released details of what the Sega Genesis Mini will look like in North America, as well as the library of games it will come with. For those of who you experienced the mini version that was released by AtGames a year and a half ago, this is an overall improvement as it shows SEGA was not happy with the job they did and the feedback the console got, so they went all-in to correct the mistakes of the past. The model of the console is the Model 1 Genesis, which launched in 1989 in North America. It will come with two replica three-button USB Genesis controllers, One USB to Micro-B power cable, One power adapter (North America only), and One HDMI cable.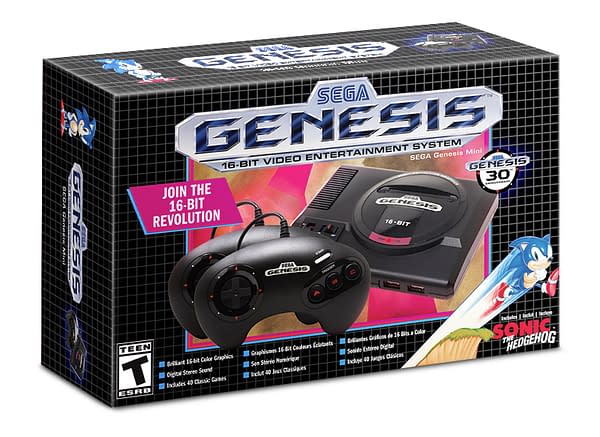 The company addressed who handled the ports by saying "M2 is handling the porting process. They've previously worked on SEGA AGES and SEGA 3D Classics Collection, with a fantastic reputation based on the quality of their emulation projects and their faithfully recreated ports." The console will launch on September 19th, 2019 for $80 and will have 40 games overall, but will only start with 20 games installed in the library. We have those 20 listed below, plus the next 10 that will be added, along with photos of the console and the games themselves as they appear in this version. We're guessing they'll be added through either an online update or a flash drive you can purchase to update the library.
Sonic the Hedgehog
Ecco the Dolphin
Castlevania: Bloodlines
Space Harrier 2
Shining Force
Dr. Robotnik's Mean Bean Machine
ToeJam & Earl
Comix Zone
Altered Beast
Gunstar Heroes
Earthworm Jim
Sonic the Hedgehog 2
Castle of Illusion Starring Mickey Mouse
World of Illusion Starring Mickey Mouse and Donald Duck
Contra: Hard Corps
Thunder Force III
Super Fantasy Zone
Shinobi III: Return of the Ninja Master
Streets of Rage 2
Landstalker
The Next 10
Earthworm Jim
Sonic the Hedgehog 2
Castle of Illusion Starring Mickey Mouse
World of Illusion Starring Mickey Mouse and Donald Duck
Contra: Hard Corps
Streets of Rage 2
Thunder Force III
Super Fantasy Zone
Shinobi III: Return of the Ninja Master
Landstalker