Smurfs Kart Releases First Official Gameplay Trailer
Microids has released the first official trailer for Smurfs Kart as we get a better look at the wild racing gameplay. The trailer basically goes over all of the mechanics you'll need to know before going into the game, including how to get boots, drift, item usage, and more. At this point, if you've played a kart game of any kind, you know the majority of what's going on here, shy of knowing the controls. Enjoy the latest trailer as the game will be released on November 15th, 2022.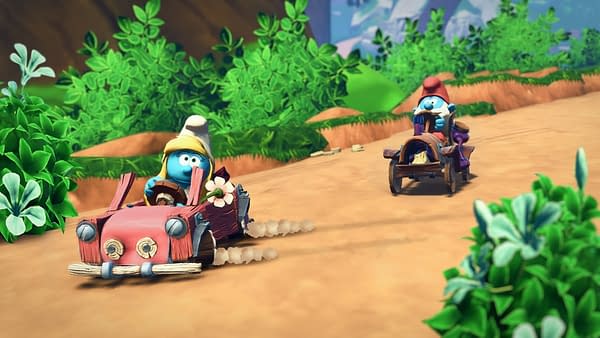 That is the question you will need to answer in this dynamic kart racing game in the world of Smurfs! The whole family can choose one Smurf, its kart and special power, then you're ready to go on wild races! Make the best start, find shortcuts, and use the right items at the right time to pass your opponents! Play solo or with friends and family, should you be a beginner or the most trained driver… you can get 1st place and show others who the fastest Smurf of all time is!

12 tracks taken from the Smurfs' universe: the village, the forest, the dam, the swamps… even Gargamel's house!
12 playable Smurfs: chose the Smurf you want to drive with.
Each Smurf has its own kart and a very handy special item to help you breeze past your opponents.
Reach 1st place by using the environment around you: bonus items, boosts, ramps, destructible boxes, shortcuts and more!
Play solo or with family and friends, up to 4 players in split-screen local multiplayer game mode.
Try to beat every Smurf at their own racetrack in the "Time Challenge" mode and reach the top of the online rankings with your best time!
Unlock original bonuses race after race, win after win,
and try to Smurf them all in your personal album!